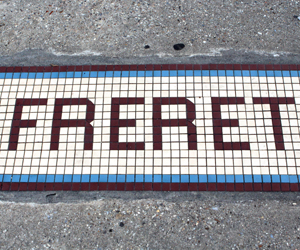 By Andrew Brott
Upon further review of the Freret streetscape plans, the longer they take the better.
As best as I and many others can tell, they plan to narrow Freret Street with 42-foot-long street "bump-outs" similar to those on Oak Street. This is a horrible idea that must be stopped.
These bump-outs look great on paper, but Freret Street has city buses (Oak Street does not) that will now be forced to stop in the middle of the street. We also have multiple businesses that rely on large cargo trucks for delivery of goods for resale. Where and how will these now park and unload? Side streets will no longer be an option as those same bump-outs will now make those intersections too narrow for any large truck to turn.
I know these plans were written by people with great intentions and architects who were paid under Nagin, but Freret Street's 180 days of "Disneyfication" will also force it to lose 32 full time LEGAL parking spaces.
Still not a big deal?
Take a look at the concrete landing pads at each bus stop. These are needed to prevent street damage from heavy vehicle use, i.e., city buses coming to a stop. I wonder how long a cobblestone, asphalt-topped Freret Street will last? Just take a look at the ruts on the road surface by existing bus stops, then multiply it by another 6+ years of promises and 180+? days of construction to get new concrete pads at each intersection.
Oak Street narrows to 20 feet at its bump-outs (Freret?), I just hope I'm not on a bus or a bike when two buses/trucks pass each other in an intersection. The section of Oak Street with these bump-out is also a straight (non-crescent) section of roadway, while Freret bends.
I could go on, but will leave with one last observation of their plans. How will anyone be able to get on and off city buses using Oak Street-style ADA ramps on Freret? My best guess is they will have to go in front of the city bus to and from the sidewalk (block oncoming side street traffic?), or the driver could pull into oncoming lane of traffic to leave a path for wheelchair.
Like I said at the start of this rant, these "bump-outs" are a horrible idea that must be stopped, and am waiting for somebody to prove me wrong. We could go ask Robert Mendoza to address these same questions/concerns but…
Let's just hope they don't start work anytime soon.
Andrew Brott of BrottWorks glass studio lives and works on Freret Street.