"If we don't have it you don't need it." "What's said on the porch stays on the porch." "Please don't speak about yourself." You've seen his work all around town — in bars, restaurants, homes, and shopfronts — but unless you look closely you might not see the signature in the bottom corner: Simon, short for Simon Hardeveld. One of New Orleans' most iconic painters, Simon is a multi-talented artist whose studio is part museum, part music studio, and part menagerie — but all magical experience.
"I paint New Orleans," Simon says. "I paint the flavors of the city. For twenty years now, she has been my inspiration."
The French-born artist cracks a wide grin as he bustles around his studio, sanding wood, refilling paint pots, and sipping beer. It's eleven in the morning on a recent weekday, and for Simon, it's not that the party has just started. It's that it never stopped. Resident in New Orleans since the early 1990s, Simon has made a name for himself by capturing the essence of the city's frequently informal, yet always piercing, wisdom: his signs, which he likes to call "Deja Vu Art", offer reflections such as "Dieu Voit Tout" and "How You Want We Miss You If You Won't Go Away?" It's hard not to come away from a visit to Simon's studio feeling inspired and encouraged, and even a little entranced.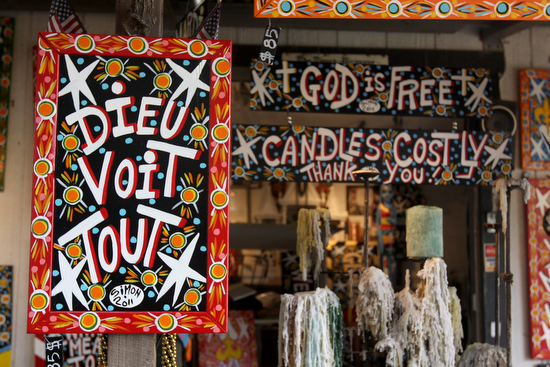 Simon cites Around the World in 80 Days as one of his favorite books; it's easy to see why. His studio resembles a cross between Jules Verne's busy workshop, a clean and well-organized junkyard, and a continental salon, with woodworking tools laid up against guitars and loose piano keys, yet listen closely and you'll hear Edith Piaf wafting luxuriously from a hidden stereo. From certain angles it feels like a tropical bungalow, with carved figurines grinning at porcelain angels, painted tiki torches nestled up against iron reliquaries, and thick candles, gris-gris, and decorated Zulu coconuts slung overhead.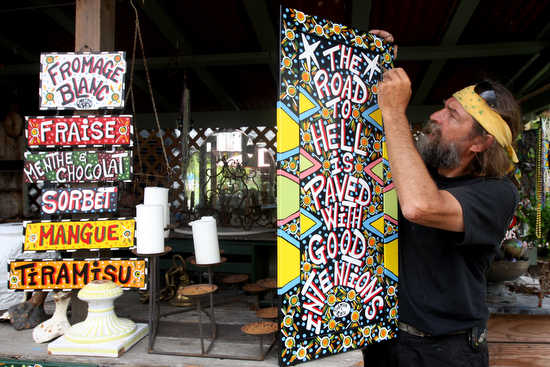 In keeping with this atmosphere, it's clear that relaxing and having a good time is the first order of business. Despite his seemingly infinite reserve of energy, which leads him to leap from one station of the studio to another like a frog hopping between lily pads, Simon likes nothing more than to crack open a beer with his customers (Heineken, preferably — while his mother was French, his father was Dutch) and share a few stories and laughs. As one of his largest signs says, "We're not here for a long time, we're here for a good time."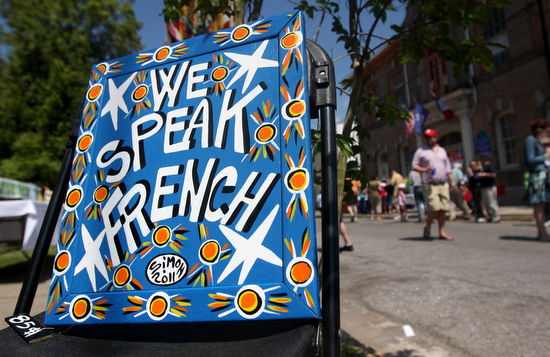 Simon's first love is painting, as the majority of his inventory reflects: apart from the folk sayings that garland his signs, he also works to commission for restaurant and retail owners, painting custom signs for their businesses (his work graces the walls of restaurants across New Orleans, from Lola's to La Boulangerie), and increasingly for weddings, showers, christenings, and other celebrations. Everything he paints comes on high-quality, durable plywood, which lasts for years, he says — such as the bright, cheerful named signs for newlyweds for $125, or the pink and blue baby name signs for $65. Signs take between 3-6 weeks each; Simon is painting so many now that he insists customers call ahead to schedule their piece. On top of these pieces Simon has recently begun larger work, undertaking commissions on furniture, masks, and doors, such as the freezer door he painted for a benefit for the International School of Louisiana, proudly advertising its contents: Ice Cold Beer.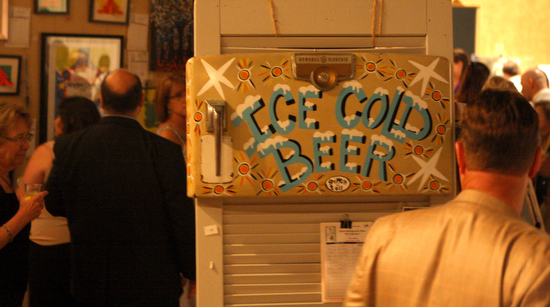 "Me, I try to be my own one-man show," he says, and breaks into a long, satisfying laugh. The best way to see the show, he says, is to come by the studio at 1028 Jackson Avenue in the Lower Garden District, premises he shares with his wife Maria and their two beloved bulldogs, Ike and Lily. (Maria owns and operates Antiques on Jackson in the adjacent building; if anything, she is the glass of wine to his bottle of beer.) Open from 10am-5pm Monday to Saturday, and 11am-4pm Sunday, he invites customers to call him at 504-524-8201, as he shuns most other electronic devices. "No computer, no fax, no virus," he says happily. He does, however, accept credit cards.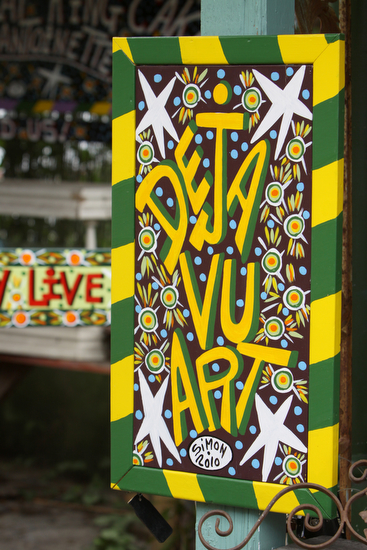 But the best way to get a sense of Simon Hardeveld's work is to understand that for Simon, art is not merely something he makes. It's a way of life. On a recent visit, two young children approached him as he was laying the final details on a freshly painted emblem, one careful brushstroke after another. "Are you on spring break?" he asked. "Yep," they chirped, peering above the table at his work. "Are you having a good time?" he continued, laying down minute strokes upon the board. "Yep," they said again, standing on their tip-toes. "Are you artists too?" he asked, barely letting his breath ripple over the paint. "No," they said, and stood back down. "Well," he said, sitting bolt-upright and fixing them in his gaze. "Why not?"