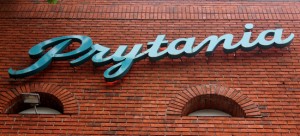 After the high-intensity tour of music provided by Jazz Fest over the last two weekends, Uptown New Orleans hosts a number of events this weekend centered around other art forms: a film festival, art gallery openings and markets, and book signings.
The weeklong Film-o-Rama kicks off Friday at noon at the Prytania Theatre, bringing about 12 hours of independent , foreign and classic film showings to anyone already looking for reprieve from the beginning onslaught of summer blockbusters. Highlights from the first weekend will include a 3-D showing of Werner Herzog's "Cave of Forgotten Dreams;" "The People vs George Lucas," a documentary about Star Wars fans; and the unlikely thriller "Rubber," about a deadly tire.
The visual arts will be on display at both the inaugural Freret Street Gallery Crawl and the monthly O.C. Haley Art Market, and the book lovers will have the opportunity to meet several notable authors, including Freddie Evans, a historian of Congo Square, and Kathryn Stockett of the bestselling novel "The Help."
For complete details and links to these and other events, see our full calendar listings below.
Friday
NOPD Department-wide weekly COMSTAT. 8:30 a.m., UNO Engineering building.
Grace House Women of Substance Luncheon. 11 a.m., Audubon Tea Room, 6500 Magazine St.
Film-o-Rama showings include "This Property is Condemned," "The Princess of Montpensier," "The People vs George Lucas," "Certified Copy," "Hobo with a Shotgun," and "Rubber." Films begin at noon at Prytania Theatre.
Martha Hall Foose discusses and signs "A Southerly Course." 6 p.m., Octavia Books, 513 Octavia Street.
PJ's Family Night at the Movies (weekly). 6:30 p.m. PJ's Coffee, 5432 Magazine Street.
Uptown Chess Club (weekly). 7 p.m. Pepperoni's Cafe, 8123 Hampson St.
Philocafe Salon : "How does one care for the soul?" 7:30 p.m., 1412 Euterpe St.
Saturday
Sunday