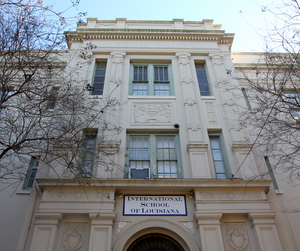 Amid accelerating changes in the landscape of public-education in New Orleans, the board of the International School of Louisiana spent Saturday morning discussing a long-term possibility of expanding into a small network of charter schools united in a focus on "immersion" as an educational concept, though not necessarily only in foreign languages.
In an effort to accommodate the trend toward full, open admissions for charter schools, the board hopes to quickly begin building several pre-kindergarten programs that would encourage children's language development earlier, preparing them for the school's current full-immersion foreign-language curriculum. At some point, perhaps through the absorbing some of the city's currently failing schools, the International School contemplates branching out into immersion programs in other subjects, such as the arts or math and science.
The long-range goal, ISL board members and administrators said, is to create a broad-enough elementary student population to create a new high school that may have both a full language-immersion track and another track that accepts students whose training in foreign language has not been as rigorous.
"We need to have a high school that's coming into play," said ISL head of school Sean Wilson. "Otherwise, all we're doing is making — though a significant impact on students we touch — a small social impact that does not improve the quality of education in New Orleans."
Saturday's discussion at ISL may reflect an emerging movement among schools around New Orleans with charters from the state to consolidate into different fully-formed networks essentially in competition with traditional public-school systems. Both Firstline Schools and the KIPP system are also expanding rapidly, for example, and ISL board members suggested that a multi-campus model was likely the most sustainable future for their approach as well.
Building a foundation
The school is already undertaking at least one, and possibly two, expansions next year. In the fall, ISL will open its first satellite campus in Algiers, adding one grade per year there to build another elementary school using the same program of full immersion in French or Spanish. The school has also applied for a state grant to open its first pre-kindergarten program next year, which would accept both low-income students whose costs will be paid by the state and tuition-paying students from families who can afford it.
Because ISL students are taught all their core subjects in either French or Spanish, it becomes progressively more difficult to add new students who are not bilingual to upper grades. Thus, the natural attrition of students moving away from one year to the next results in ever-smaller class sizes – the school's three uppermost grades (6, 7 and 8 – three classes all affected by post-Katrina losses, as well) only have 20 to 30 students each.
The same issue is a barrier to a full open-admission system at the school, because of the obvious difficulties of adding monolingual students to upper classes full of students who have been learning all their subjects in a language other than English for years. One solution school officials see is continuing to expand their lower-grade offerings, so next year, for example, the Algiers expansion will allow the incoming class to jump from ISL's present kindergarten enrollment of 92 to more than 150 next year.
"We know success comes from longevity in the program," Wilson said.
If ISL does not receive the state grant for pre-kindergarten next year, it should spend the 2011-2012 year preparing to open a pre-kindergarten on its own the following year, Wilson said. The school should then quickly build several additional pre-kindergarten sites, he said.
The school currently uses a two-step admissions process that includes both a lottery and the Gesell language-readiness test. Children chosen in the lottery must show speech development appropriate to their age to be accepted, but state officials have recently begun frowning upon that practice, suggesting it limits ISL's openness to the community.
If the school can no longer use Gesell, a strong pre-kindergarten program will also "get those language skills moving in a hurry," said board president Grant Ligon, creating a stronger base of students ready for kindergarten.
"If we can catch the kids one year earlier, we have a much greater chance of meeting that goal," said board member Mike Lappa.
Immersion beyond language
Ultimately, the school may still need to find a way to serve older students who have not had the benefit of full language immersion from kindergarten, and that could come through expansion into other immersive educational offerings. One possible solution may be to create language-emphasis schools separate from ISL but in the same network, where full immersion is not practiced but foreign languages are a core part of the curriculum, board members said.
But, in building a network of connected schools with similar governance but separate missions, the school may want to apply its immersion concept to other subjects, officials said. It would be easy to imagine a "Melpomene School for the Arts," Wilson offered by way of example, or perhaps a school that views all its subjects through the lens of math and science.
"Immersion is the key, whether you immerse yourself in language, culture, or science and math," said board member Andrew Yon. "I'm hearing 'immersion' in a way I haven't heard it before."
The window of opportunity may come sooner than later, however. The hammer is beginning to drop on schools in New Orleans that have failed to show academic improvements, and the state is looking for new operators ready to take them over, Wilson said. The easiest way to expand may be to begin with an under-performing school and gradually convert it to ISL's immersion model – an opening that may only be available for the next two years.
Lappa noted the school's current success in language instruction, and cautioned against moving two quickly away from it.
"Any organization that has tasted success, there's a temptation to grow too fast, grow in too many different ways," Lappa said. "There's still only 24 hours in the day. You can try to replicate talent, but it's really hard. We are blessed with some really high-quality talent, but it would be hard to replicate in kind."
But ISL may be well-positioned to make the case for takeover to the state, officials noted. Its school-performance score of 102.2 rates it a three-star school in the city's upper tier, but more interested in this method of expansion than others.
"I think we could run any school extremely well because of the model (the administrators) developed, which happens to be in a language environment," Yon said. "I believe that we affect the landscape of education in New Orleans fastest and best with a full, diverse portfolio of options. There's an opportunity for schools to get taken over, and that whole track over there offers us a diversity."
"The schools with 140 SPS are in no hurry to do anything other than run their schools," noted board president Grant Ligon.
Coming together
Ultimately, this network of pre-kindergartens, elementary and middle schools would create a large enough base to support a high school. Administrators estimate they need a kindergarten class of about 600 to lead to a graduating high school class of 125. But a full language-immersion high school would be almost impossible, ISL officials said, because of the state requirements for teacher certification at the high school level that even a charter school could not get a waiver for.
"We're in an environment that says anything too different from the norm is not acceptable," Wilson said.
Thus, a dual-track high-school program would likely not only be necessary, it would also create room for students who have followed different paths to the the high school that did not include language immersion. That overall growth plan, the board said, would give ISL a way to accommodate neighborhood students without language training, if state laws change to require charters to accept them.
"The challenge every year is to ensure we can meet our at-risk population," Wilson said. "The solution is to get parents who have not considered this type of program (to start) being included."
"If we stay locked into our current immersion track, we could be turned on our head in a couple of years," Yon said.
Saturday's meeting was framed as a retreat, a chance for the board to discuss its long-range goals rather than take specific actions, so no votes were taken, no decisions were made and no policies changed. The officials did agree to begin putting the ideas into writing for upcoming ISL meetings and to explore the structures that would accomodate the expansion plans, because for the unique immersion school to thrive and add the broader admissions policies on the horizon, decisions must be made soon, board members generally agreed.
"If we're going to expand," Ligon said, "we're going to go this way."