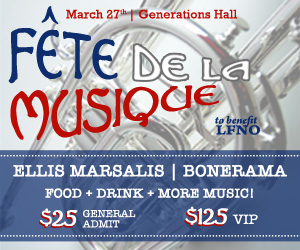 A new French curriculum public charter school has come to Louisiana, and New Orleans is rolling out an unforgettable musical welcome. Fête de la Musique kicks off at Generations Hall on Sunday, March 27th beginning at 5.00 p.m., when jazz legends Dr. Michael White and Ellis Marsalis, along with a classic array of New Orleans entertainers, will serenade and swing Lycée Français de la Nouvelle Orléans (LFNO) onto the scene.
LFNO is a Type 2 Louisiana public charter school accepting students in French curriculum education from across the state. The school will  ultimately serve grades Pre-K3 through 12th gradel, offering a French Baccalaureate degree to its graduates. This degree will enable graduates not only to enter college as sophomores, says event organizer Lora Carapina, but will also enable them to attend college in France free of charge, like any French citizen.
"We see this as an essential part of rebuilding New Orleans," Carapina says. "We're making our children more marketable and therefore our city more marketable to outside companies and organizations. The opportunities are just incredible."
Sunday's Fete will feature local performers on two stages, including Bonerama, Shamarr Allen and the Underdawgs, Ellis Marsalis with members of the Thelonious Monk Institute, the Loyola University Orchestra, and marching krewes the 610 Stompers and the Sirens. New Orleans food writer Tom Fitzmorris will host the evening's live auction as burlesque performers rub elbows with acoustic musicians and opera singers, all of whom will mingle with partygoers.
A Patron Party from 5.00-6:30 p.m. features French hors d'œuvres from Chef Jacques of Château du Lac Bistro and world-renowned French chef Daniel Bonnot, along with an open bar and private viewing area. Revelers will have access to a cash bar and tasting portions from some of New Orleans' finest restaurants. Dress is casual, though guests are strongly urged to show their sense of liberté, égalité, and fraternité by dressing in blue, white, and/or red.
Tickets for the VIP Experience (including patron party and concert, open bar and food all evening) are $125. Concert tickets are $25 in advance and $30 at the door. Front row tables are also available for $2000. All funds raised at Fête de la Musique go directly to LFNO so that a first-rate bilingual education can be offered to Louisiana children of all backgrounds — not based on family income, previous education, or place of residence. Despite being located in New Orleans, LFNO is open to students from every parish in the state.
The Fête will take place at Generations Hall, at 310 Andrew Higgins Drive. For more information on LFNO or Fête de la Musique, contact Lora Carapina at 504-616-7803, email her at loradc1@aol.com, or visit www.lfnofete.com.