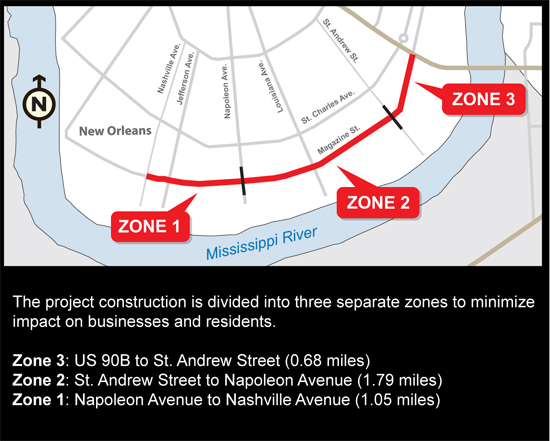 As the resurfacing of Magazine Street nears its lengthy second phase, officials tried to assure business owners that interruptions to their specific stores will be minimal.
While the resurfacing between St. Andrew Street and Napoleon Avenue is expected to take several months, construction moves rapidly down the street and should not be disruptive to any one business for a prolonged period of time, officials said at a Tuesday evening meeting at St. George's Episcopal School.
State Department of Transportation and Development public outreach representative Meghan Legaux answered questions from an audience of more than 30 people alongside Ray Samolin, project contractor, and Michael Assaf, project manager, both of Plus Concrete. Their answers are presented below in Q-and-A format.
Q: What is the progress of the lower Magazine Street construction?
A: It is currently on schedule to be completed by Mardi Gras or the week after.
Q: How will parking be affected and how will residents be notified?
A: We will post no parking signs the day prior to entering an area.
Q: Will parking be off limits for months at a time?
A: Absolutely not. In the first phase, parking was restricted for a couple of days at a time, depending on the repairs needed in that area, and then during the repaving. It is a pretty quickly moving operation.
Q: Will there be interruptions where you can't get in to your driveway?
A: It will be a temporary interruption of 15 to 20 minutes. The goal is to maintain access as much as possible.
Q (from Micaela Kelly Bennett of White Camellia): Will there be nighttime construction?
A: Yes.
Q (follow-up from Bennett): With night and day construction, will the interruption be 24 hours a day?
Assaf: "Construction will be going on 24-7, but we will not interrupt your life 24-7. We will interrupt it for short times at most – a week or two – where we will be in front of your business with minor interruptions.
Legaux: "We have been working with the Merchants Association for a year now. We want to be as minimally inconvenient as possible. We want to get the work done, and then move on down the road. We can't promise that it won't be inconvenient. All construction is a little bit inconvenient. … When we can help you, we will."
Q: Will people have access to stores? Do we have to build access ramps?
Samolin: "People will have full access at all times. If we are in front of your store and we have to remove a portion of the concrete or an area in front of your store we will allow access during all hours of operation. If that means we need to build a board ramp to allow people in, we will do it."
Q: We have a lot of potholes that get repaired and two weeks later we have the same potholes again. Are you guys going to actually fix the streets?
Legaux: "Do you like the way St. Charles Avenue near Tulane looks or Nashville Avenue? All those roads were part of this program."
Q: Can we request our sidewalk be redone if we feel it needs to be redone?
A: That is determined by the engineer, who decides whether it is in an unsafe condition.
Q: If a sidewalk needs to be redone, when are the ramps installed?
A: When it is removed, a ramp will immediately be installed.
Q: On major streets like Jackson or Washington, how far back down the side streets will the sidewalks be repaired.
A: Right now it hasn't been determined. It is dependent on what the engineer works up.
Q: Will crosswalks be improved?
A: Yes, stripes will be painted at crosswalks, school zones, bus stops, traffic signals and everywhere else they are needed.
Q: Are there any plans for a bike lane?
A: It has been considered. From St. Andrew to Nashville, there isn't enough room. A bike lane may be possible from St. Andrew to Calliope.
Q: How long does a single block take on average?
A: They don't work a block at a time. They repair the sidewalks and the curb and then the road is resurfaced.
Q: You leave the resurfacing part until the very end of the phase?
A: No, either one side or the other. We will start on one section, go down one side, come back, come down the other side, and then resurface.
Q: Does the work flow change around the two weekends around Jazz Fest, which is very important to the businesses around Magazine St.?
A: No, but it will stop for Mardi Gras from March 1 to 8.
Q: What are plans for the St. Patrick's Day parade?
A: The contractors are aware of the St. Patrick's Day Parade and are coordinating their schedule so it will not be affected. They won't be working the day of the parade. Part of the parade route is in phase 1 of the project, which will be complete by then. Another portion is in phase 2, which will have just started construction three days previously.
Q: Phase 3 is said to start in the summer. Do you have a more specific time frame?
A: After July 4.
Q: The blocks prior to that, like Napoleon will be in June?
A: Yes.
Q: What are the social media updates for?
A: To notify people in the short-term about areas of construction, water leaks or other issues that arise.
Q: Will trucks be able to get in for deliveries?
A: Yes.
Q: Will any additional traffic enforcement be conducted on the side streets? When Magazine closes, many drivers speed down Constance and other parallel streets instead.
A: No detours will be created through the neighborhood, but additional traffic enforcement is worth suggesting to police.
Q: How will construction affect the city bus routes?
A: Construction officials are in contact with the bus operators, who will be posting all any changes and rerouting.
Q: Where will equipment be stored?
A: Right now it is undetermined. We don't like to leave it exposed if we can help it.
Q: Are there going be any improvements to sewage lines?
A: No, that is not in the program but if we come across any leaks we do contact the Sewerage & Water Board.
More information is available at http://magazinestreetrepair.com, on Twitter @magstrepair or on Facebook at http://www.facebook.com/magstrepair.