Population loss following Hurricane Katrina will likely result in the removal of at least one state Senate district from New Orleans during legislative redistricting, possibly setting up a re-election battle between two sitting incumbents this year.
Each of the four Senate districts mostly contained in New Orleans is about 30 to 40 percent short of the population it needs to satisfy population requirements, according to 2010 Census figures. Even the seeming inevitability of dividing one of those four among the other three still leaves a significant shortfall, meaning the remaining New Orleans-based districts would have to grow outside the city limits.
The East Bank of New Orleans' delegation to the state Senate is primarily comprised of four well-established lawmakers: Cynthia Willard-Lewis (District 2 – New Orleans East), J.P. Morrell (District 3 – Gentilly, the Ninth Ward, downtown and Marrero), Ed Murray (District 4 – Lakeview, Mid-City and downtown) and Karen Carter Peterson (District 5 – Uptown). The Audubon area of Uptown New Orleans is represented by Sen. Julie Quinn of Metairie (District 6), while Algiers is mostly represented by Sen. David Heitmeier, whose District 7 also represents Gretna, Harvey, Terrytown and other West Bank communities. (See a map of the current New Orleans-area Senate district boundaries.)
Based on Louisiana's population, each of its 39 Senate districts should have 116,240 residents, give or take 5 percent, for a minimum of about 110,000 residents. The table below shows how far each district deviates from that 116,240 ideal, based on the 2010 Census: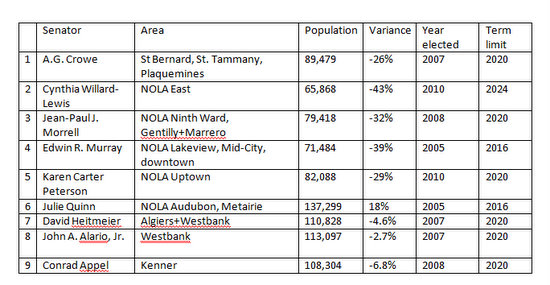 The total population of the city is about 343,000, which would suggest that New Orleans has enough people to warrant three Senators. Each of its incumbent senators is eligible for at least another four-year term, however, which will complicate the choice of which districts to consolidate with the prospect of incumbents facing one another for re-election.
Although New Orleans' delegation to the state House of Representatives is expected to lose three members, this problem is avoided by the fact that three area lawmakers are retiring, possibly allowing their remaining colleagues to then divide up the unrepresented districts to make up their own shortfalls.
In Uptown New Orleans, for example, state Rep. Walker Hines' decision not to seek re-election leaves more than enough people to help Reps. Neil Abramson, Walt Leger and Helena Moreno bolster their population:

The two representatives neighboring the Uptown districts, Cameron Henry of Jefferson (who also represents the Black Pearl) and Nick Lorusso of Lakeview, also suffered population losses, and may also take part of Hines' district.
Though Uptown's delegation of Abramson, Leger and Moreno may stay intact, their actual district lines will need to be redrawn. Leger's district is completely surrounded by Abramson and Moreno's, meaning his District 91 will have to expand well into the neighboring precincts to obtain the roughly 10,000 more residents it needs to meet the new minimums.