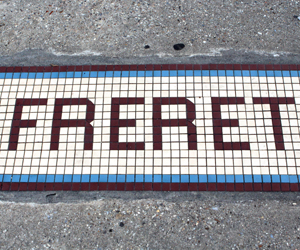 A rebuilt streetscape, a host of new restaurants opening and a reinvigorated street party all slated for the coming months are accelerating the excitement and sense of renewal along the Freret corridor, residents said Tuesday night.
"By next year, we're going to see a whole lot more people using Freret Street for all the right reasons," said business owner Greg Ensslen at a meeting of Freret Neighbors United.
Ensslen, who said he receives calls from every developer with an idea for Freret, shared a long list of restaurants planned for the corridor in the coming months. The first, Dat Dog, a gourmet hot dog stand, is slated to open any day. In a building near the Napoleon Avenue side of Freret, two restaurants are planned, a traditional sit-down restaurant serving family fare, and a deli with a wood-fired pizza oven.
Farther up Freret, a gourmet hamburger restaurant and a deep-dish pizza restaurant are also in the works, Ensslen said. Since Friar Tuck's closed, there has been a tremendous amount of interest in that building, though no firm plans have been shared, Ensslen said. Two other new live-music venues have been proposed, one with a more family-oriented style on the top floor of the bright blue Neighborhood Housing Services building, and a traditional jazz lounge geared toward older audiences between Sarita's and the Freret Boxing Gym.
"This is not going to be geared toward college students," said Rankin Hickman of Blue Cypress LLC, the company proposing the jazz lounge. "It'll be geared toward people like myself, middle-aged people."
Hickman's plans are still in development, and neighborhood residents asked him to return when he has more details and drawings to share. An preliminary, informal poll, however, suggested that they all liked what they heard so far, association president Dean Gancarz-Davies said after tallying the comments after the meeting.
With the projects already in the hopper, Freret Street may quickly be nearing a saturation point for restaurants and nightclubs, Ensslen said, asking what residents would encourage developers to consider instead. The most support in the room was for more retail — either high-end or catered to the neighborhood, and the idea of a bookstore drew particular enthusiasm — but several audience members also described the need for a "signature" entertainment option akin to the Prytania Street's Prytania Theatre. A small-business incubator is also planned for the area.
The city's long-promised reconstruction of the street is slated to begin in April, adding a neighborhood sign and new trees, upgrading streetlights, repairing broken curbs and grates and making the sidewalks wheelchair-accessible between Jefferson and Napoleon avenues. The project will be a joint venture between contractors F.H. Paschen and S.N. Nelson, and while City Councilwoman Stacy Head criticized the city's choice of Chicago-based companies at a recent committee meeting, she praised the overall effort.
"I think it's going to make people really excited to know that this spring they're going to see work being done in their neighborhoods that is really going to transform the way communities feel," Head said.
To give the project a unique feel, Kellie Grengs of the Freret Street Business and Property Owners Association recommended the addition of power outlets on the new street lights, so strings of Christmas lights can be hung between them during the holidays. Amid concerns that no one from the community had seen the plans for the streetscape project, Freret Neighbors United vice president Andrew Amacker also suggested requesting an informational meeting from the city about the upcoming streetwork.
Ensslen and the other organizers of the monthly Freret Market have also taken the reins of the Freret Street Festival slated for April 2. That street party will fill the blocks from Napoleon to Soniat with four stages (including one devoted only to brass brands), 15 bands, booths representing some of the city's most popular and up-and-coming restaurants and a live, outdoor roller derby.
The association and the Freret Neighborhood Center have a number of service projects and community meetings planned, as well.
For a full recap of our live coverage of the Freret meeting, click "Replay" in the box below.