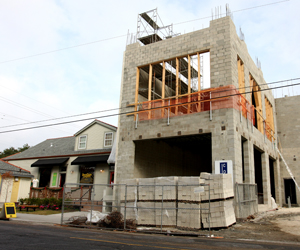 A controversial Pilates studio will lower its Magazine Street facade and provide a handful of additional parking spaces in a nearby lot during peak hours, but those concessions were voluntary and all that upset neighbors can expect, city officials told a crowd of more than 100 people Monday evening.
Romney Pilates, which caused a furor among neighbors in December when construction began on the third story of its new building across from Whole Foods, has secured state fire marshal approval to remove the front portion of that third story, dropping the front face to a height of about 36 feet in a camelback style, said District A City Councilwoman Susan Guidry and Michael Sherman, the city's director of intergovernmental relations. Further, Romney will supplement the five parking spaces on its lot with five more in the lot about a block away at 5530 Magazine from 7 a.m. to 10 a.m. and after 5 p.m., the Pilates studio's busiest hours.
The studio's owners, however, technically followed all the city's procedures properly in their requests for size and parking variances, so the city has "no legal leg to stand on" to require any changes to the building's design, Guidry said. To an audience of many neighbors concerned by either the influx of even more traffic to an area where parking is already difficult, or by a building design they say does not fit with the streetscape, Guidry said all she can really do is share in their frustration.
On the issue of public notice, however, Guidry said she and the mayor's office are already in the process of researching changes to a decades-old law that required Romney to give notice to only the four immediately adjacent parcels of their plans. Drafting a new ordinance and taking it to the full City Council for approval should ideally take about three months, she said.
"We look forward to changing the rules that led to this situation," Guidry said, adding later: "It should be automatic that notice goes out to the neighbors who would be affected."
Guidry said she's also begun exploring new regulations specifically for Magazine Street that could have prevented the Romney controversy or play a role in the rumored upcoming Walgreens acquisition of the old American Legion building nearby – another prospect that elicited expressions of dread in the Uptown audience Monday.
The meeting featured an hour-long period of questions from a very vocal audience and answers from Guidry, Sherman, and occasionally Erin Romney herself. For a full recap, click in the box below: