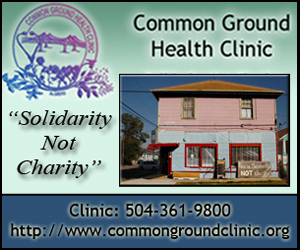 It's time to dig up the Fire Cider! Common Ground Health Clinic invites you to join the 6th Annual Fire Cider Dig and Herbal Dinner Party, Saturday, January 8, at 2pm. See below for details.

The Fire Cider is a healing tradition now entering its sixth year. Made at the community garden on Teche Street in Algiers, this winter tonic is used as a cold and flu remedy by many in our community. The brew includes ginger, hot peppers, garlic, rosemary, turmeric, and other spices in a base of apple cider vinegar.
The process began in December with an educational session led by the Common Ground Health Clinic Herbalists, and continued through the afternoon as community members chopped the ingredients, combined them in glass jars and buried them in the ground to brew for thirty days.
Now the time has come to unearth the cider and celebrate! We will begin at the garden at 2pm, digging up the jars and straining and decanting the cider, and then move down the street to the CGHC offices for dinner & merriment (starting at 3pm). This event is a great opportunity for hands-on learning about the Common Ground Health Clinic herbal medicine program.
All ages are welcome. Dinner is potluck, so please bring food or drink to share. We will provide rosemary chicken, roasted veggies, and  greens – and, of course, Fire Cider. Saints fans need not worry: we'll have the game on, too. If you would like to come, RSVP so we know how many to cook for. Call Lanette Williams at 504-473-1346.
Details
2pm: Gather at the garden (Teche & Slidell) for the dig up.
3pm: Gather at Common Ground Health Clinic office (1408 Teche, at Socrates) for dinner.
We look forward to seeing you there!