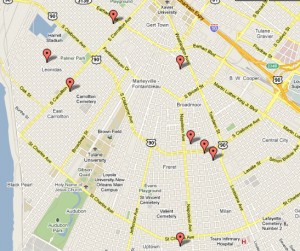 An aspiring chef was stabbed just off Prytania and a bank manager was robbed in his car while driving through Fontainebleau in a wave of seemingly unconnected muggings around Uptown New Orleans over the last week, police said Wednesday.
Investigators have made arrests in several cases and have developed suspects in several others, but with no single underlying cause or pattern, the holdups are difficult to prevent, authorities said. Meanwhile, a rash of car break-ins have been reported all around Uptown, investigators said.
– Late Monday evening, an assistant chef at Commander's Palace went to the CVS store on Prytania Street to buy eggs and milk for a recipe he wanted to practice at home, said Sgt. Shaun Ferguson of the NOPD Second District persons-crimes division. As he left the store on Cadiz Street, a man of about 40 years old asked him for money, but the chef told him he had none and continued walking, Ferguson said. A few seconds later, the victim was stabbed in the arm from behind, Ferguson said.
The victim went home and tried to treat the wound himself, but couldn't, and went to the hospital for treatment. Ferguson said that after talking to him, investigators learned that a man fitting the description of the attacker does hang around the area, and are searching for him now but have yet to locate him.
– On Monday afternoon, a bank manager who lives in Jefferson Parish was headed home, and instead of taking his usual route down Earhart Boulevard, tried to dodge traffic through the Leonidas neighborhood, Ferguson said. At the intersection of Dublin and Fig streets, a man ran up to his car with a semi-automatic handgun, got into the backseat and ordered the driver to take him downtown, Ferguson said.
At the intersection of Barracks and North Claiborne, the robber demanded the driver's watch and wallet, then got out and headed toward the river, Ferguson said. The victim could not describe his attacker because the man was wearing a hood and continually told the driver that if he looked back at him, the robbery would "turn into something worse," Ferguson said. Investigators are now trying to determine if any of the private security cameras in the area might have caught an image of the robber.
– Also in the Leonidas neighborhood, the Bus Stop Lounge on the 8500 block of Hickory Street was robbed by a man wielding a single-barreled shotgun about 9:30 p.m. Tuesday, but investigators were quickly able to identify him as Wendell Brown, 48, Ferguson said. Brown was located Wednesday morning in the 1600 block of Joliet by members of the NOPD violent-offender squad and the FBI Violent Crimes Task Force and arrested on a charge of armed robbery with a firearm, according to a NOPD news release.
– A man was walking in the 7900 block of Green Street in Carrollton, talking to his mother on his cell phone about 2 p.m., when a stranger walked up to him and began hitting him in the face, then tookk his phone and ran away, Ferguson said. The attack was witnessed by a field full of physical education students and their teacher at the school nearby, but investigators have yet to develop a suspect, Ferguson said.
– A man was also robbed in his home in the 1600 block of South Lopez in Gert Town by an acquaintance he allowed to come inside, Ferguson said. The victim answered a knock at his door to two men, one of whom identified himself as "Patrick" and reminded the victim that they had known each other before Patrick's sex change, Ferguson said.
The pair said they needed to use the phone, so the victim let them come inside. The man calling himself "Patrick" then grabbed a pair of scissors and demanded money while his accomplice searched the house, at one point hitting the victim in the head with an iron before leaving, Ferguson said.
– Last week, a man ran into an old high-school acquaintance he hadn't seen since before Hurricane Katrina at a barbershop at South Derbigny and General Pershing in Broadmoor, but while they spoke outside, the victim was approached by a second man from behind who put him into a headlock, Ferguson said. The man's acquaintance then rummaged through his pockets, found a pistol the man was carrying, and stole it and ran off. Police were able to identify the suspect as Arthur Giles and arrested him at a home on Burdette Street, Ferguson said, but they have not found the stolen gun or identified Giles' accomplice.
Giles is one of Uptown's "top 10 offenders" for all sorts of violent crime, Ferguson said, so police hope his current arrest will keep him incarcerated.
Uptown has also seen two recent shootings that may have been robbery-related, Ferguson said:
– A man went into a store in the 4200 block of South Claiborne in Milan with a woman known around the neighborhood as "Mona," bought a few things, and then headed to an alley off General Taylor with her, Ferguson said. A few minutes later, the victim saw a man enter the alley, so he took off running, and the newcomer began firing a gun at him, striking the victim in the buttocks, Ferguson said.
It's unclear whether the woman lured the victim into the alley for a robbery, Ferguson said, so police are trying to find her for questioning.
– A man was shot last Monday, Nov. 29, near the intersection of Amelia and Clara streets in Milan in what appears to have been a drug deal gone sour, Ferguson said. Two men coming from Central City walked to an apartment complex near the intersection to buy marijuana, and one stood outside while the other went inside for the deal, Ferguson said.
The man waiting outside saw his companion come back out of the apartment and take off running, so he started running after him as shots rang out behind them, Ferguson said. The man who'd gone inside the building was hit as he ran, but witnesses noted that he, too, was carrying a gun, Ferguson said.
– A robbery previously reported on Freret Street turns out to have taken place in the Milan neighborhood instead, Ferguson said. Two women had originally told police they were held up near Friar Tuck's in the 5300 block of Freret, but investigators thought their story had several holes, Ferguson said. They later admitted that they were actually robbed in the 1900 block of Constantinople – they had left the bar to go to a residence there, but did not want their parents to know that, and thus initially told police the robbery took place near the bar.
Car break-ins | In the last week and a half, detectives have been called out to 25 car burglaries, a surge that they attribute to the holidays. The majority of the break-ins have been along the Magazine Street corridor, particularly on the St. Charles side, and some small clusters do appear to be related, said Sgt. Marc Amos of the NOPD Second District property-crimes division.
Unlike the robberies, the car burglaries are more preventable, and Capt. Darryl Albert redeployed his task forces and patrol officers to cover that area even more heavily than they already were. Many of the burglaries could be prevented, the officers said, if people would simply lock their cars and stop leaving expensive items in them.
"The silly season is on for more people. We're starting to see more cars left unlocked," Amos said. "The target can be anything in the car. We had change stolen, we had GPS's, iPads, iPhones, wallets."
One bright spot did appear in the week's crime report, Amos said: the upper end of Magazine Street has seen none of the shoplifting that has been rampant among the clothing stores down on the Garden District end of the popular shopping destination.