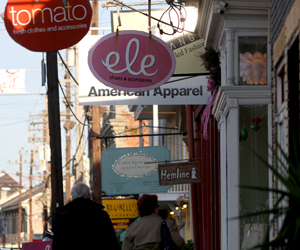 A stretch of Magazine Street featuring a cluster of high-end clothing retailers has become the repeated target of shoplifters as the holiday season has begun, police said.
Over the past two weeks, at least a half dozen thefts have been reported at clothing stores on the 3200 and 3300 blocks of Magazine Street, just downtown from Louisiana Avenue, with some stores being hit more than once, said Detective Andew Waldron of the NOPD Sixth District. Unlike some crime sprees, the recent thefts do not appear to have been committed by the same people; arrests have been made in some cases and surveillance cameras have caught clear images of others.
"We keep making arrests, but they keep coming," Waldron said.
Among the recent arrests, for example, was a recent case involving two women who were using an aluminum pouch concealed in a purse to mask the signal emitted by stores' anti-theft devices, police said. Ele Shoes, Francesca's, Hemline and particularly American Apparel have all been hit, Waldron said, and in two separate unsolved cases video at American Apparel has captured images of the suspects, one a woman, and the other a man dressed in women's clothing.
Anyone with information about the shoplifting cases should call the NOPD Sixth District at 658-6060 and ask to speak to Detective Virgil Landry or any officer.