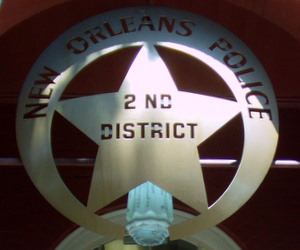 Two teens have been arrested in an armed robbery outside an Uptown charter high school that served as a prelude to a violent Halloween weekend around the city, police said Thursday.
In separate incidents, a man was shot in the Garden District, a woman was robbed of her luxury car in the Milan area, police found a major stash of drug money in Freret, and thefts deemed "crimes of opportunity" saw a surge around Uptown, ranking NOPD officers reported at their weekly meetings Thursday morning.
Sci High robbery | The robbery was reported at 4:40 p.m. Friday in the 5600 block of Loyola Avenue, just outside the New Orleans Charter Math and Science High School, police said. Two 17-year-old students, the victim and 17-year-old Ciontray Campbell, were standing on a corner when a third person walked up, said Sgt. Shaun Ferguson of the Second District persons-crimes division. Campbell greeted the third person, later identified as 19-year-old Terry Brown, who then pulled out a blue-steel semi-automatic handgun and robbed the victim of $1,100 in cash, Ferguson said.
Campbell and Brown fled and the victim reported the robbery to school officials, who were able to bring Campbell back that afternoon, Ferguson said, and he was arrested on a charge of principal to armed robbery. Brown was not a student but was known to others at the school, and after detectives learned his identity, they arrested him at his home on the robbery charge, Ferguson said. The gun belonged to Brown's stepmother, who willingly retrieved it from its hiding place and gave it to police, Ferguson said.
The cash, however, was not recovered. Ferguson said that even though the amount stolen was large, they do not believe it indicates any suspicious activity.
"The reason he had $1,100 on him was his house had been burglarized, and he kept his cash on him so he wouldn't lose it," Ferguson said.
Prytania shooting | The man who was shot in the hand in the Garden District early Monday morning had merely been waiting to pick up a friend for work that morning when he was attacked, Sixth District detectives said.
The victim, a 42-year-old actor who lives in the Black Pearl, was on his way to filming in the French Quarter around 5 a.m. Monday, but stopped in the 3400 block of Prytania to pick up a coworker, said Sgt. Sandra Contreras of the Sixth District persons-crimes division. He was a few minutes early, and while he sat in his car waiting, he noticed a man walking alone up the middle of the street, Contreras said.
The victim became uneasy about the situation, so he turned on his car and put it in reverse, Contreras said. As he began to back up, the man in the street began firing a gun at his car, and one bullet hit his hand, Contreras said. The gunmen fled, but neighborhood residents began calling 911 and giving police information about the shooting, and officers from around the district began heading toward the area.
Just a few blocks away, in the 2900 block of Dryades, Officer Candice Preston saw a man who fit the shooter's description beginning to come out of an alleyway, stopped him and took him to the hospital where the victim was able to identify him, Contreras said. Quinnan Adams was charged with aggravated battery.
(WGNO spoke to a few neighborhood residents about the shooting.)
Because of the close location, investigators believe Adams may have also been involved in an earlier robbery attempt at 7th and Carondelet streets, Contreras said. On Wednesday, Oct. 27, a man was walking to a friend's house when he was approached by a someone from behind wearing a bandana over his face who told him not to turn around or he would "blow your head off," Contreras said.
The assailant told the victim to empty his pockets, but when the victim showed that there was no money in his wallet, the attacker took the whole thing and ran off, Contreras said. The victim never actually saw a gun, but did notice that the robber had an accomplice acting as a lookout on the corner, urging him to hurry, Contreras said.
Stolen BMW | About 11:30 p.m. Sunday, Halloween evening, a woman was in the 2700 block of Peniston leaving Silkey's bar when two men jumped out in ski masks and robbed her of her purse, Ferguson said. She had been headed toward her car, a black 2007 BMW 328i, but the men took her keys and drove off in it, Ferguson said, and the car has not been seen since.
The suspects had emerged from an alley between two empty houses, one under construction, and the other abandoned with a repair permit on file but no visible work being done, noted Officer Wilfred Eddington, the Second District's quality of life officer.
Drug money in Freret | Narcotics agents also arrested an armed drug dealer who was keeping his money in a home just off Freret Street, police said.
After making an undercover drug buy from 32-year-old Wilfredo Banks Jr., narcotics agents obtained a search warrant for his home in the 2100 block of Willow Street in Central City. There, they found Banks with a Tec-22 handgun as well as crack cocaine residue and a digital scale commonly used in drug sales, according to a NOPD news release.
Probation and Parole officers then alerted the narcotics agents to another address registered to Banks in the 2500 block of Valence Street in Freret. There, they found more drug paraphenalia and $13,260 in cash which Banks admitted to being proceeds from drug sales, narcotics agents said in the Sixth District's weekly meeting Thursday afternoon.
"Banks has an extensive history of narcotics arrests, attempted first degree murder, domestic violence and theft," NOPD Officer Hilal Williams wrote in the release. "Banks is currently on probation for possession of crack cocaine with the intent to distribute, crack cocaine distribution and illegal carrying of weapons."
After Wednesday's arrest, Banks was arrested on charges of possession of narcotics while in possession of a firearm, possession with the intent to distribute narcotics, illegal carrying of a weapon by a convicted felon and probation violation.
(Video from WGNO)

Holiday theft season | Although Uptown home burglaries remain low after police took several serial burglars off the streets recently, thefts from cars and other crimes of opportunity seem to be surging, said Sgt. Marc Amos of the Second District property-crimes division.
Many of those crimes were easily preventable. The Second District saw 11 parked cars stolen from, seven of which were unlocked, and six cars stolen, one of which had a spare key in it. Likewise, five of the seven vehicles stolen in the neighboring Sixth District last week had keys in them, and a handful of those were left running. For the year, a total of 110 unlocked cars have been burglarized and 36 with keys in them have been stolen in the Second District, police said.
The lower end of Magazine Street has seen some of its thefts reappear. In one case, a man was seen watching the diners outside at Byblos and Salu for more than half an hour when he suddenly snatched a woman's purse from her table and ran off, said Detective Andrew Waldron of the Sixth District property-crimes division. Officers caught up with Kentrell Gray in the 900 block of Louisiana and were able to recover all the woman's belongings, the purse that Gray had discarded and the cash he'd put in his pocket, Waldron said.
At the Jackson restaurant in the 1900 block of Magazine, a man engaged the hostess in a rambling conversation, then attempted to grab a tip jar off the counter, Waldron said. She managed to grab it and fight back, and the man ran off, Waldron said. Thefts were also reported at American Apparel on Magazine Street and Walmart on Tchoupitoulas, Waldron said.
The present surge in thefts is likely to continue through the holiday season as shopping begins, Amos said, prompting Capt. Darryl Albert to suggest beginning increased patrols now for the holidays in the commercial areas of Prytania, Oak and Tchoupitoulas (Magazine Street already has its own dedicated patrols). Amos replied that additional officers should also be deployed in heavily residential areas as well, such as the Black Pearl.
"People are shopping, absent minded, not paying attention to the little things," Amos said. "They may not get them when they get done shopping, but they will definitely get them when they get home — because not everybody brings everything into the house."
Contact Robert Morris at rmorris@NolaMessenger.com, or post your comment below.