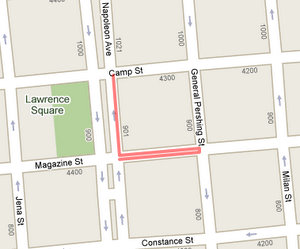 Most of the intersection of Magazine Street and Napoleon Avenue will be closed Thursday so a sewer line can be moved, officials announced.
The 4300 block of Magazine, which is the downtown block from Napoleon, will be closed to traffic in both directions from 8:30 a.m. to 7 p.m. while the Sewerage & Water Board works, according to an announcement through the city email system. One northbound lane of Napoleon will be closed as well, the announcement states.
City buses will be detoured around the closed section, the announcement says.