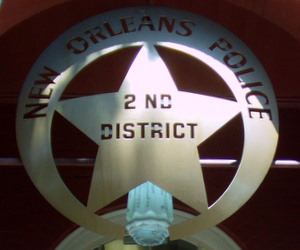 Police were called to the intersection of Camp and Jena streets early Wednesday morning by a man with a gunshot wound to the hand who reported an attempted robbery nearby under circumstances police now deem questionable, they said.
Meanwhile, Uptown officers are adjusting to a new policy that will radically reduce arrests on minor warrants in the city, and concentrating in the Black Pearl to combat a recent spike in property crimes there, they said Wednesday at the weekly meeting of the NOPD's Uptown-based Second District.

The man told police he'd been drinking on Frenchmen Street, caught a ride to Le Bon Temps Roule on Magazine, and stayed there until it closed between 4 and 4:30 a.m., said Sgt. Shaun Ferguson of the persons-crimes division. The man said he then walked up Magazine Street to Robert, then headed toward the CVS pharmacy on Prytania, but was stopped in about the 1200 block of Robert by a stranger who walked up to him with a small revolver and demanded his wallet, Ferguson said.
The victim said he put his hands in the air, and as the robber reached forward to take his wallet out of his pocket, the victim also reached back towards it, and inadvertently struck the gun in the robber's other hand, causing the gun to fire a bullet through his hand, Ferguson said. The victim and the robber both then ran off in the directions they had come from, the victim not slowing down until he reached Camp and began walking downtown toward Touro Hospital, Ferguson said. When he reached Jena, he called 911 and was met by an officer, Ferguson said.
Investigators have a number of questions about the victim's story: Both the sequence of events that led to the gunshot wound and the path he took – bypassing his own home on Lyons Street without calling police from there – are difficult to understand, Ferguson said. When asked to sign a statement, Ferguson said the victim stopped cooperating with the investigators.
No similar incidents or suspicious people have been reported in that area, Ferguson said, calling the man's gunshot wound "an isolated event."
Far Fewer Arrests | Also at the meeting, Capt. Darryl Albert described to supervisors the NOPD's new policy of not arresting people who have outstanding arrest warrants for minor offenses, like failure to pay a traffic tickets. A full third of the department's arrests in the past year fell into that category, costing the city $2 million, Chief Ronal Serpas told the city council during budget hearings earlier this week.
Most of those minor-offense warrants come from neighboring jurisdictions like Jefferson Parish that also do not make arrests on them, Albert said, meaning that the entire arrest was a waste of time and money.
"It's manpower intensive," Albert said, noting the length of time it takes an officer to book a suspect into jail. "We're spinning our wheels with this guy on a traffic attachment in Jefferson Parish, and they don't even want him."
Officers were concerned that the new policy will dramatically lower arrest totals and deprive them of a tool to keep some people off the streets who would only be committing crimes. Albert replied that the new policy only applies to minor warrants – not drug or gun cases, for example – and the time and money savings will allow officers to be more proactive and make more serious cases.
Burglaries in the Black Pearl | Last week saw a major spike in property crimes in the Black Pearl area, leading to ramped up enforcement there, Albert said. A number of arrests were made on unrelated offenses, and no crimes have been reported this week, suggesting police might have taken the thief off the streets, Albert said, but he plans to keep the increased patrols for the time being.
Overall, reported persons and property crimes are down 13 percent in the Second District for the year, Albert said.