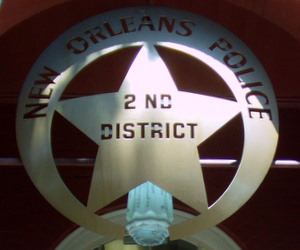 A convicted felon who allegedly drove through the Touro neighborhood firing at residents from his pickup truck was arrested early Wednesday and may be tried on federal gun charges, police said.
Two women were sitting on the porch of a home near the intersection of Marengo and Coliseum streets about 11:50 p.m. Tuesday when a yellow pickup driving down the road slowed down and the driver fired a gun out the window at them, said Lt. Mike Montalbano of the NOPD Second District investigative unit. As he drove away, the driver continued shooting, Montalbano said.
Police stopped the truck about a block away on Constantinople and found a gun and 13 spent shell casings inside, said Detective Guy Swalm, the second district's firearms investigator. The driver, 29-year-old Jesse McKinney, was initially charged with aggravated assault and illegal discharge of a weapon, police said.
McKinney told police he had just moved to the area recently, though they've been unable to verify that, Swalm said. His driver's license was registered in Jacksonville, Fla., but the arresting officer's search of Florida records initially turned up no criminal history.
Further investigation revealed, however, that McKinney had previously been in Lake County, Ohio, where he had served a six-year sentence on a conviction for felonious assault with a firearm, evidence tampering and narcotics trafficking, Swalm said. After learning of that conviction, police were able to file an additional charge of possession of a firearm by a convicted felon against McKinney, Swalm said, and federal agents are now looking into the case, which could lead to a federal prison sentence of several years without any chance of early release.
McKinney was released on a total bond on the three charges of $80,000, Montalbano said, and he is due in court Nov. 28.