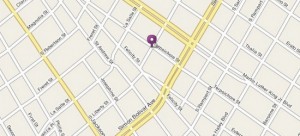 A 21-year-old man was found dead with multiple gunshout wounds Friday afternoon at a Central City intersection, police said.
Police were called out to reports of a "male down" at the intersection of Terpsichore and South Liberty streets at 12:38 p.m., and found the victim lying on the sidewalk, and paramedics who arrived pronounced him dead. His name is being withheld pending notification of his family, police said.
No information about a suspect or motive has been released. Anyone with information should call the lead investigator, Homicide Detective Kevin Burns, at 658-5300. You can also call Crimestoppers at 822-1111, where information that leads to an arrest is eligible for a $2,500 award – even if you don't leave your name.