All of the proceeds from these merchandise sales allow us to expand our news coverage of the Uptown community. And, by wearing one of our shirts or using one of our products, you are helping promote your favorite neighborhood news site to new readers.
Products Made-to-Order
We will typically have a limited inventory on all products, but everything is available for preorder. We're just as excited to get you your shirts and mugs as you are to have them. If the product you want is out of stock, please allow 10 business days for us to process and ship the order.
Pickups Available!
If you live in the city and would like to pick your products up from our Uptown office, please use the discount code "PICKITUP". Our office is located at 4609 Freret Street, and hours for pickup will be Mondays from 5pm to 8pm. Orders made by Friday, October 23rd, can be picked up at our Happy Hour & Pop-Up Shop on Thursday, November 5th at Publiq House, 4528 Freret Street, between 5pm and 8pm. If you are not available at the alotted times, please add special instructions to your cart before checkout.
Uptown Fan Pack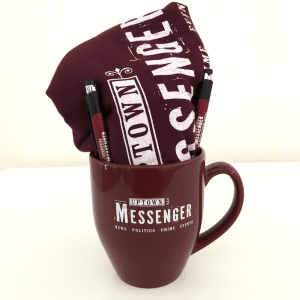 This is the fanatic package for our most adamant supporters. Comes with one fitted t-shirt, one bistro coffee mug, and two really cool pens!
$25
Uptown Tee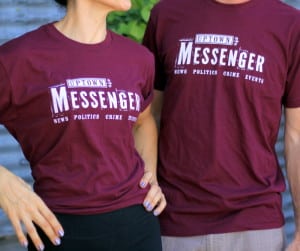 Premium fitted short-sleeve crewneck t-shirt. Maroon with white Uptown Messenger logo. Light, breathable feel. 100% Combed Ring-Spun Cotton Jersey.
$20
Uptown Women's Tee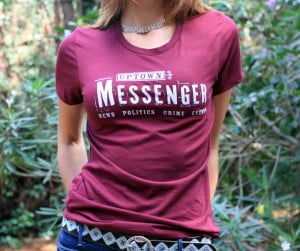 Even softer than our fitted tees. Maroon crewneck t-shirt with white Uptown Messenger logo. Called "The Boyfriend Tee". 100% Combed Ring-Spun Cotton Jersey.
$20
Uptown Messenger Mug
Our wide ceramic bistro mug has a smooth rim and glossy finish with a curved grip and tapered bottom. This great mug holds well to everyday use for your favorite coffee or tea, and it works perfectly for reading news online. Bistro coffee mug, 16 oz, maroon, ceramic, microwave-safe.
$9