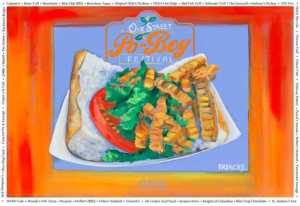 This Sunday's annual Oak Street Po-boy Festival will honor a beloved New Orleans food tradition for the 8th year in a row.
The festival, which features more than 30 food vendors and five music stages, includes both traditional poboys and eclectic variations on the theme.
A sloppy hot roast beef poboy, for example, is available from Gattuso's for $10, while The New Orleans Hot Dogs features a bacon fried hot dog poboy for $6.
Seafood options include a fried green tomato and shrimp remoulade poboy from Jacques-Imos for $8, and a Lake Pontchartrain soft shell crab poboy from Jack Dempsey's for $10.
The event, which is free and open to the public, is family friendly, and includes an event put on by St. Andrews Episcopal School.