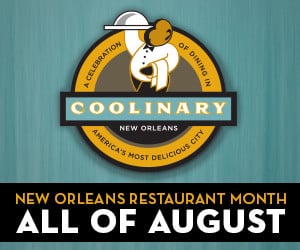 CELEBRATING DINING IN AMERICA'S MOST DELICIOUS CITY!
The New Orleans Convention & Visitors Bureau (CVB) invites New Orleans residents to take advantage of the city's many cultural attractions and world-class dining options through 2015 COOLinary New Orleans Restaurant Month. Experience cuisine that delights your palate and is an integral part of the history, fabric and culture of New Orleans.
During the month of August, enjoy 2-3 course lunch menus for $20 or less; 3 course dinner menus at $39 or less;  and 3 course brunch menus at $39 or less at over 80 award-winning restaurants. Don't forget to ask for each Chef's COOLinary Menu. It's been a delicious summer!