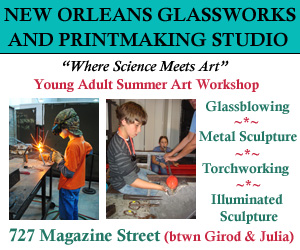 New Orleans School of GlassWorks & Printmaking Studio offers a summer workshop for young adults, which covers glassblowing, metal sculpture, scientific glass torch-working, stained glass, copper enameling, paper engineering, printmaking and book-binding. Students gain artistic, technical knowledge and oral competency in all studios they choose to study.
Our Young Adult Program consists of a truly unique, one-of-a-kind curriculum that offers a hands-on experience in a variety of working studios.  Young artists, ages 9 to 17, learn a wide array of innovative techniques and skills, utilizing a combination of the various working artist studios.
Our Summer Art Workshop begins June 4th – June 22nd, with a 3-week session.  This session includes full instruction in glassblowing as well as metal sculpture, stained glass, illuminated sculpture, glass torchworking & printmaking.  Each student designs and executes projects that generally take 3 weeks to complete. With the close guidance of master faculty, multimedia projects are encouraged. 
AFTER THE THREE WEEK SESSION, weekly sessions start on Monday, June 25th and continue through Friday, August 17th.  STUDENTS CAN SIGN UP FOR ONE OR MORE WEEKS.  They do not have to be consecutive.  Studios included in the weekly sessions are: metal sculpture, glass torchworking, stained glass, illuminated sculpture, copper enameling and printmaking.  Technically and artistic skills will advance with each week of attendance.
Upon completion of the workshop, young adults are encouraged to continue studying in one or more studios, as well as to attend future art workshops, such as our young adult program during winter break or on Saturdays as their school schedule permits.
— Click to find out more and to view photos of youth working at New Orleans School of GlassWorks & Printmaking Studio —