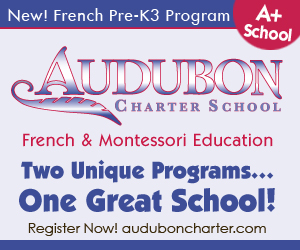 Audubon Charter School to reinstate French prekindergarten for 3-year-olds.
Timely applications deadline for all grades extended through Feb. 15th.      
Audubon Charter School, an A+ school and the only Orleans public school accredited by the French National Government and an initiate member of the American Montessori Society, was recently approved to reinstate its French pre-K3 program (prekindergarten for 3 year olds) for the school year 2012-13.
Applications are available at the school website: www.auduboncharter.com or call (504) 324-7110 for information.
As a result, Audubon has extended its timely application deadline for all grades pre-K3 through 8 for both its French and Montessori programs to February 15, 2012 in order for applicants to have sufficient time to apply.