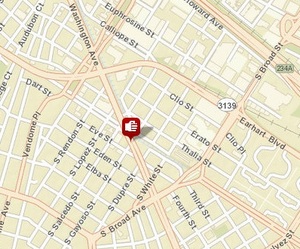 Two men — one wearing an ankle monitor as he awaits trial on a carjacking charge — were wounded in a drive-by shooting Tuesday afternoon in the 4300 block of Washington Avenue, and police are hoping the public can help find the car used in the attack, authorities said.
The two men were walking on Washington Avenue around 3 p.m. Tuesday when a silver, four-door sedan approached from behind, police said. The driver's-side doors of the vehicle opened, and at least two occupants of the vehicle began shooting, then drove off, police said.
The 19-year-old victim was shot in the leg, and the 21-year-old victim was hit in the hand, police said. Neither injury is considered life-threatening.
The 21-year-old victim was Kerwinell Singleton, who was wearing an electronic ankle monitor at the time of the shooting after his arrest last September following a carjacking near Coliseum Square. Singleton's ankle bracelet was working properly at the time of the shooting, as he was within the geographic boundaries set by the court and not out past his 6 p.m. curfew, according to a statement by Sheriff Marlin Gusman.
Singleton had actually been in court on Tuesday for a hearing and is scheduled to return for another appearance Dec. 5, Gusman notes.
Anyone with information is asked to call Detective Warren Walker of the NOPD Second District at 658-6020, or CrimeStoppers at 822-1111 to leave an anonymous tip that could be eligible for a cash reward.