Around noon on Saturday, April 13, the victim had just used the ATM at a store in the 2300 block of South Claiborne (near First Street) when a man approached from behind, snatched the money out of his hand, said "thank you" and ran off, said NOPD Sgt. Danny Scanlan at the weekly meeting of Sixth District leadership. The victim and a witness standing nearby tried to grab the man but he got free, and they chased him up First Street and onto Rex Place where he jumped a fence and escaped, Scanlan said.
A security camera nearby captured a photo of the suspect. Anyone who can identify him is asked to call Sixth District Detective Ed Johnson at 658-6060 or CrimeStoppers at 822-1111.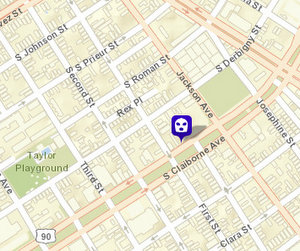 A robbery suspect who plucked cash from the hand of a man who had just used a South Claiborne ATM took a moment to offer his gratitude before fleeing, but a nearby camera caught a photo of him that investigators hope will soon lead to his arrest, authorities said.