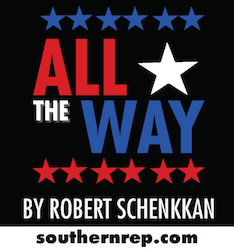 The regional premiere of Tony Award-winning play ALL THE WAY by Robert Schenkkan is running now until June 3 at Loyola University Theatre with special events every day this weekend.
Presented by Southern Rep Theatre, the political drama follows Lyndon B. Johnson, Martin Luther King, Jr., and a huge cast of historical figures through the passage of the Civil Rights Act of 1964 and Johnson's re-election campaign.
ALL THE WAY received national acclaim in its 2014 run on Broadway, where it won the Tony Award for Best Play. Star Bryan Cranston—also a Tony Award winner—then reprised his role as LBJ in a 2016 HBO film adapted by playwright Robert Schenkkan.