Dear New Orleans Voters,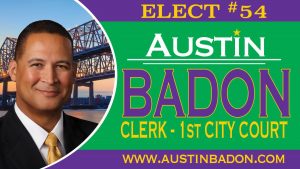 My name is Austin Badon and I am running to be your next First City Clerk of Court. The reasons why are fairly simple: I love helping people, I am willing to work hard to improve our community, and I firmly believe your family and mine should have access to the justice system in a manner that is efficient, cost-effective and easy.
The Clerk of First City Court is an administrative position, and most of you know this office as the door to the "people's court" or First City Court where four Judges you elect hear small business and personal claims.
When this office is run right, our city works better. When our basic disagreements as citizens are resolved quickly, there is no need for "street justice". Quite simply, we're all safer. Continue reading »