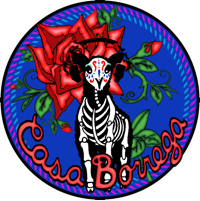 Casa Borrega in Central City is hosting its sixth annual Day of the Dead and first Frida Kahlo costume contest on Friday, Nov. 2, from 7 to 11 p.m.
The event features an altar by Hugo Montero, who has been creating Day of the Dead altars since the early 1990s in New Orleans. This year's altar is dedicated to Anthony Bordain.
The community is invited to bring photos of their loved ones who have died in the last year to place on the altar. The installation is open to the public during business hours.
The free Dia de los Muertos event will feature Javier Gutierrez and Vivaz! for a night of Latin dance. The first-place winner of the costume contest will receive a dinner for two gift certificate; second place, a bottle of Tres Agaves tequila; third, lunch for two.
The day's special menu will include Casa Borrega's mole and pozole, smoky mezcal diablos and vampiros (tequila, grapefruit soda and sangrita), and hot spicy chocolate with mezcal.
New Orleans and Mexico share an ancient tradition of honoring the dead. In New Orleans, we observe All Saints Day. Dia de Los Muertos is Mexico's most important holiday, conjuring the psyche of the nation through plays, music and sweets depicting the dead. Casa Borrega will cook dishes to place on the altar for the souls of the dead to enjoy.
Casa Borrega is a destination at 1719 Oretha Castle Haley Blvd offering traditional Mexican cuisine, agave spirits and live Latin music. The environmentally friendly venue is also a Latin cultural center and an important anchor on the boulevard.