Visit the Notarial Archives Research Center
Chelsey Richard Napoleon, Clerk of Civil District Court and Ex-Officio Recorder, is celebrating Archives Month at the Notarial Archives Research Center during the month of October. Tours, workshops, and seminars are scheduled throughout the month, with an opening reception on October 1. There is no cost to attend, but seating is limited.

Let us know you are coming! Please contact the Research Center to RSVP at
504-407-0106 or civilclerkresearchctr@orleanscdc.com.
All events will take place at:
Notarial Archives Research Center
1340 Poydras Street, Suite 360, NOLA 70112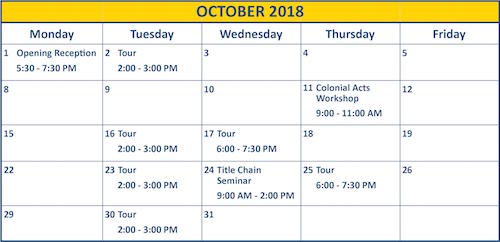 TOURS, WORKSHOPS, & SEMINARS
Tours: 2 p.m., Every Tuesday in October (except Oct. 9)
& 6 p.m. Wednesday, October 17 and Thursday, October 25
Archivist Sally Sinor will guide you in exploring our holdings representing family history, slave sales, weather patterns, architecture, and the rich history of New Orleans.
Colonial Acts Workshop: Thursday, October 11, 9 a.m. – 11 a.m.
Join archivist and historian Sally Reeves for a hands-on workshop translating French and Spanish Colonial documents. Please register to attend by October 4.
Title Chain Seminar: Wednesday, October 24, 9 a.m. – 2 p.m.
Enjoy a half day seminar about the unique experience of tracing a land title in Orleans Parish. Lunch on your own. Please register by October 17.