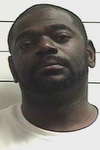 A man already convicted of a sexual-battery charge has been indicted on allegations of raping a 7-year-old girl three years ago in Central City, Orleans Parish prosecutors said.
David Lewis, 40, is charged with first-degree rape on accusations that he forced the child to perform oral sex on him in a LaSalle Street home in early 2015, according to the indictment released Thursday afternoon. For more details, see the following news release from District Attorney Leon Cannizzaro's office:
Lewis faces a mandatory lifetime prison sentence without benefit of parole, probation or suspension of sentence if found guilty of the charge.

Criminal District Judge Robin Pittman left unchanged Lewis' $60,000 bond after the indictment was read.

Lewis was arrested May 1 after the victim, now 10, disclosed the sexual abuse to her mother. The girl accused Lewis of forcing her to perform oral sex on him in the bedroom of a home in the 2200 block of Lasalle Street. The indictment alleges the rape to have occurred sometime between Jan. 1-April 30, 2015.

Lewis pleaded guilty in 2007 to an amended charge of sexual battery, following a 2004 arrest on allegations of third-degree rape. Criminal District Judge Darryl Derbigny sentenced Lewis to time served since his arrest in that case.

Lewis is the 13th defendant indicted this year through Cannizzaro's office and the Orleans Parish grand jury on charges of first-degree rape involving a juvenile.

Assistant District Attorney Payal Patel presented the case to the grand jury.