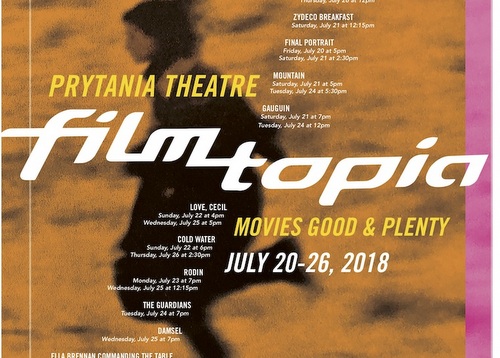 Starting Friday, the Prytania Theatre is launching a new film series called "filmtopia," which will run the gamut of the art-house offerings from documentaries, foreign films, cinema classics and a retrospective on the career of Stanley Kubrick.
Many of the films take extended looks into the wide world of the arts, including the opening night film, "The Gospel According to André," a portrait of fashion icon André Leon Talley. Other artist-centered features include "Boom for Real: The Late Teenage Years of Jean-Michel Basquiat," "Zydeco Breakfast," "Final Portrait" (a narrative about the artist Alberto Giacometti in the 1960s), "Rodin," "Gauguin: Voyage to Tahiti," "Love, Cecil" (a biography of multi-platform artist Cecil Beaton), "Godard, Mon Amour" (a story told from the perspective of the French filmmaker's wife), and "Leon Vitali" (about the actor and devoted assistant to Kubrick). Also making a poignant screening is the documentary "Ella Brennan: Commanding the Table," a portrait of the Commander's Palace matriarch who passed away earlier this summer.
Foreign films included in the lineup include the French "Cold Water" by Olivier Assayas, "The Band's Visit" (the story of an Egyptian orchestra performing in Israel that is now a Tony-award wining musical performance), and "The Guardians" (a French World War I story).
Classics in the lineup include "The Wizard of Oz" and "Scarface," as well as six films by Stanley Kubrick celebrating his 90th birthday, from "The Killing" in 1956 through "Clockwork Orange," "Barry Lyndon," "The Shining," "Full Metal Jacket" and concluding with his final feature in 1999, "Eyes Wide Shut."
For more information about individual films and showtimes, see the Prytania "filmtopia" website.