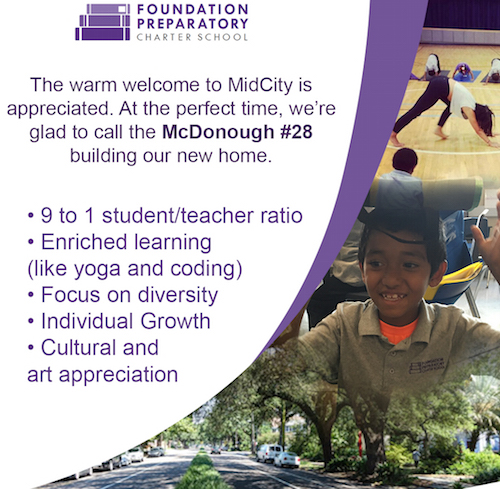 The word is getting out that Foundation Preparatory Charter School is exactly what parents find most important at some of New Orleans' most prominent (and private) schools.
9 to 1 student/teacher ratio
Enriched learning (like yoga and coding)
Focus on diversity
Individual Growth
Cultural and art appreciation
Yes, we have a new location and the warm welcome to the City Park/Faubourg St. John Community is appreciated. Foundation Preparatory Charter School is glad to call the McDonogh #28 building our new home. This space will allow us to serve more families who are committed to their child's education.
Visit foundationprepratory.org to learn more.
Foundation Preparatory Charter School
2733 Esplanade Ave.
New Orleans, LA 70119
#foundationprepnola #solidfoundation #nolaed