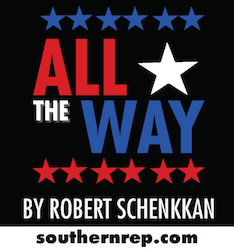 The regional premiere of Tony Award-winning play ALL THE WAY by Robert Schenkkan is running now until June 3 at Loyola University Theatre with special events every day this weekend.
Presented by Southern Rep Theatre, the political drama follows Lyndon B. Johnson, Martin Luther King, Jr., and a huge cast of historical figures through the passage of the Civil Rights Act of 1964 and Johnson's re-election campaign.
ALL THE WAY received national acclaim in its 2014 run on Broadway, where it won the Tony Award for Best Play. Star Bryan Cranston—also a Tony Award winner—then reprised his role as LBJ in a 2016 HBO film adapted by playwright Robert Schenkkan.
Southern Rep's production features Jason Kirkpatrick and Dominique McClellan in the pivotal roles of LBJ and MLK Jr. Director Aimée Hayes oversees a cast of 30 performers to portray the dozens of speaking roles that bring this historical drama to life.
Says Hayes, "I have been looking for an opportunity to get our whole community working together to make a play. When I read ALL THE WAY, I knew that this rousing play spoke to the heart of our city. We love politics; we grapple with our differences and seek common ground; and we love being challenged. Robert Schenkkan's play offers so much insight into our nation's recent past as we navigate our way forward."
Tickets are on sale now at southernrep.com or 504-522-6545. Performances take place at Loyola University, Marquette Theatre (6363 St. Charles Avenue, New Orleans, LA 70118). Free parking for patrons is available in the West Road garage.
Regular tickets are $40, subject to increase.
Discounts: Seniors ($35) – Teachers, Under Age 35, Theatre Professionals ($25)
Student Rush ($10 at the door only, 10 minutes before curtain – availability not guaranteed)
Group rates available by calling the box office. Priority Patron (Season Subscriber) memberships provide discounted rates.
Special Events This Weekend
Friday, May 25, 6:45 PM – Lagniappe Performance Series Event featuring New Orleans Youth On Mic (free), followed by ALL THE WAY Performance at 7:30 PM (ticketed)
Saturday, May 26, 2 PM – ALL THE WAY Special Early Matinee Performance
Saturday, May 26, 6:45 PM – Table Talk Panel Discussion: Freedom Summer – A Look Back, moderated by Dr. Ashley Howard of Loyola University (free), followed by ALL THE WAY Performance at 7:30 PM (ticketed)
Sunday, May 27, 3 PM – ALL THE WAY Matinee Performance, followed by Actor Talkback
Southern Rep, in residence at the Loyola University Department of Theatre Arts and Dance, worked with community partners including Dancing Grounds, Ashé Cultural Arts Center, and Kingsley House to run acting workshops and auditions to bring community members into this enormous production. Community partners continue to be involved through  free engagement activities surrounding the production.
For more about the production and full special event schedule, click here.