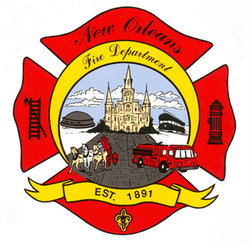 Seven people were displaced and one had to be treated for smoke inhalation after a two-family home on South Johnson Street caught fire Monday night, New Orleans fire officials said.
The 911 call about the fire in the 2600 block of South Johnson Street (the corner of Third Street) was received at 10:12 p.m., and firefighters arrived six minutes later to find the single-story wood home "heavily involved with fire in the rear," according to a New Orleans Fire Department report. Firefighters immediately searched both sides of the home and determined that all seven residents had gotten out safely, the report states, and additional firefighters were called to the scene to help battle the blaze.
"Unfortunately the fire had intensified significantly and began to threaten the home to the immediate left of the fire building," the report states. "With the additional support called to the scene, firefighters were able to continue attacking the bulk of the fire while working tirelessly to minimize the damage done to the exposure building."
It took nearly 45 minutes for 51 fire personnel to bring the fire under control, and "the main fire building suffered heavy fire and smoke damage to the rear of the home," the report states. The second building exposed to the fire also had "light to moderate damage" at its rear as well, the report states.
One of the residents suffered from smoke inhalation during the blaze, and was treated by paramedics at the scene. All seven who were displaced received assistance from the Red Cross.
The cause of the blaze remains under investigation, the report states.