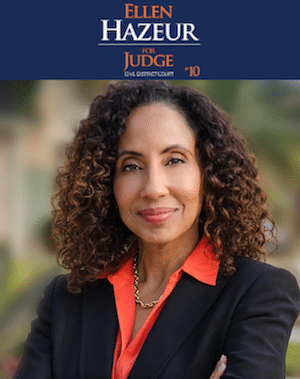 Dear New Orleans Voters,
I am seeking to continue serving our great city as a Judge of Civil District Court. I offer my experience, knowledge, efficiency and integrity to demonstrate to you that I have the work ethic and experience to run Division "A" effectively. I am committed to fairness, service and justice for our community.
I was born in New Orleans and am a proud graduate of Xavier University of Louisiana and Tulane University School of Law. I attended both universities on academic scholarships and also worked to support myself.
My legal experience is broad and diverse. I started my law practice by passing the California State Bar and practicing insurance defense litigation. Because my heart was still at home in New Orleans, I returned, passed the Louisiana State Bar and began practicing as a plaintiff's attorney.
In 1994, I was elected as the first woman to represent District "E" on the New Orleans City Council. I transitioned from practicing law for both plaintiffs and defendants, to writing and passing laws for our city. During my tenure on the New Orleans City Council, I drafted and passed hundreds of pieces of legislation on a variety of matters pertaining to land use and zoning, utility regulation and more.
As a Louisiana attorney, the Court appointed me to serve as a Deputy Special Master in the New Orleans Train Car Leakage Fire litigation involving the CSX Railroad. I helped serve justice to over 9,300 litigants and played an active role in executing the settlement of $3.4 billion settlement. I also heard appeals from the members of the class action suit and determined if they were fairly compensated for their damages.
Since 2000, I have served our city as Clerk of First City Court. As clerk, I have been responsible for the timely handling and processing of over 200,000 civil cases and have implemented and upgraded the technology of First City Court, allowing self-represented litigants and attorneys digital access to records.
My legal experience, efficiency, integrity and public service record have uniquely qualified me to manage the Division "A" docket effectively. Here are some unique qualities that qualify me to be your next Civil District Court Judge:
As your next Judge, I pledge to be thoroughly prepared for any case that comes before me and manage my docket efficiently.
As a working mom, I understand how valuable your time is and will not waste it by continuing matters unnecessarily.
I also pledge to show everyone who appears before me respect, fairness, and patience. I will ensure that Civil District Court continues to implement modern technology and computer systems for our customers and staff, ensuring that the Court's information systems are protected. I will also be an advocate for a new courthouse for Civil District Court to bring us on par with surrounding parishes.
Election day is March 24th. I am asking for your vote. Please know that you will be voting for the candidate that will best serve you and is committed to a justice system that is fair and ethical.
Visit our website at Hazeur4Judge.com for more information about me and my campaign.
With Kind Regards,

ELECTION DAY IS


THIS SATURDAY, MARCH 24th
[This advertiser's message is paid political advertising by The Committee To Elect Ellen Hazeur Judge. UptownMessenger.com does not endorse candidates for election.]