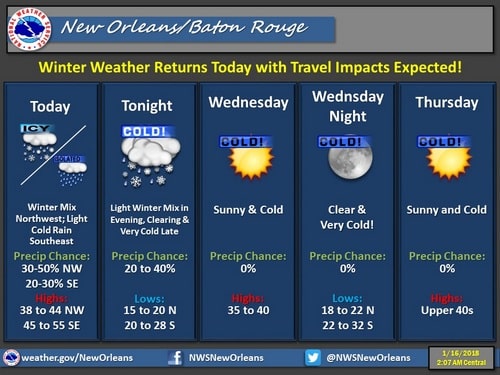 Among another blast of unusually cold weather, forecasters are predicting a possibility of snow as part of the below-freezing temperatures expected in New Orleans Tuesday night, according to the National Weather Service.
"Another Arctic airmass is on the way with the cold front having quickly moved through this morning," wrote the National Weather Service in a warning early Tueday morning. "Very cold air is already moving in behind the front."
Temperatures will fall toward freezing and plunge into the 20s overnight, and the precipitation expected could result in snow, sleet or freezing rain, according to the National Weather Service.
"Areas around Houma, New Orleans, and along the Mississippi coast should see the wintry mix develop during the late afternoon and evening hours," the warning states. "Overall accumulations are anticipated to be from a trace to just under an inch of sleet and snow a a trace to possibly a tenth of an inch of ice."
The cold weather will repeat again on Wednesday, but without the precipitation. Forecasters are also warning of a return of the dangerous wind chill that New Orleans has seen in other recent cold snaps.
"Temperatures will quickly drop below freezing and with winds of 10 to 20 mph expected wind chill readings in the single digits to lower teens are anticipated across the entire region," the warning states.