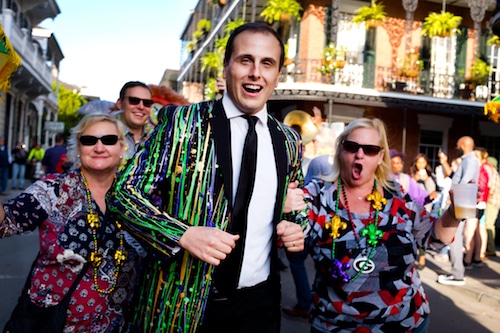 Mardi Gras and festival season are right around the corner, which means you need an outfit that makes a statement. Whether you're walking down the parade routes on St. Charles Avenue or navigating the food stands at Jazz Fest, it's always important to stand out from the crowd. 1 of 1 Blazers creates custom, hand-painted suits, ties, and blazers for all your party needs.
Wear Your Custom Suit Anywhere!
Some men's suits have a subtle message, but not ours. We create the ultimate power suit by giving you the confidence to truly own the room. Here are a few places to wear your most outlandish outfits:
Mardi Gras parades / balls
Office parties
Bachelor parties
Crawfish boils
Your kid's sporting events
Make a splash with a custom blazer or suit from 1 of 1 Blazers. We have a wide variety of suits, jackets, and blazers that are sure to turn heads wherever you go. Our suits provide you not only with style, color, and an interesting talking point, but also with the confidence to approach any situation.
Gift a Custom Suit from 1 of 1 Blazers
Our suits and blazers are the best gift you can possibly give because each one is 100% unique. These hand-painted works of wearable art are a much better gift than the latest gadget on the shelf. Suits from 1 of 1 Blazers instantly make the wearer into a celebrity, and they are sure to spark a conversation.
Shop
Choose from our wide selection of suits and blazers and find a piece that matches your personality.