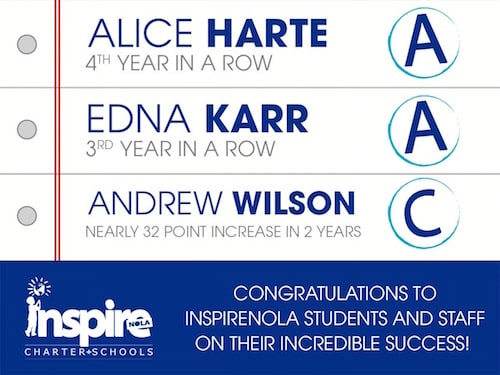 The Louisiana Department of Education recently released school letter grades, and the InspireNOLA charter network continues to excel and outperform area schools. Alice Harte Charter School and Edna Karr High School both maintained "A" letter grades, and Andrew Wilson Charter School's school performance score increased by over 31 points in only two years.
For the fourth year in a row, Harte achieved an "A" letter grade and surpassed the state average of students scoring Mastery or above on LEAP assessments. Harte continues to remain a top open-admissions school in the city and one of only two open-admissions "A" elementary schools in New Orleans. "Every school year we are faced with new challenges, but, by maintaining a consistent level of excellence and dedication, Harte's staff and students are able rise above obstacles," said Robert Hill, Alice Harte Head of School.
Edna Karr High School also achieved an "A" letter grade, which has been maintained for the past three consecutive school years. Karr is one of just three open-admissions "A" high schools in New Orleans. Academic achievement, combined with athletic success, has truly propelled Karr to be a premier high school in the state of Louisiana. "We are committed to providing students with a well-rounded and high-quality high school experience," said David Lewis, Edna Karr Head of School.
InspireNOLA's turnaround school, Andrew Wilson, also saw growth and scored above the citywide average on LEAP assessments. Previously a failing school before being taken over by InspireNOLA, Wilson now ranks in the top 40% of open-admissions elementary schools in New Orleans, as measured by their SPS. "Our students and scholars work hard every day and are happy to see their work pay off,: said Lee Green, Andrew Wilson Head of School. "While we praise this success, we know there is still a lot of work to do and we will continue to strive to be the best."
InspireNOLA Board President Wayne Crochet congratulated the staff and students: "I am so excited about the growth of our scholars. Our leaders and faculty constantly go above and beyond the call of duty to ensure the success of all students and I am very appreciative of their dedication."
Chief Executive Officer Jamar McKneely said that this work is far from easy, and without the commitment and hard work of hundreds of educators, these gains would not happen. "The students of New Orleans deserve the best schools possible and InspireNOLA will not stop until all of our schools have reached their highest potential," McKneely explained.
About InspireNOLA Charter Schools
Founded in 2013, InspireNOLA Charter Schools is one of the top charter management organizations in New Orleans and is the only network with two A-graded schools. InspireNOLA serves more than 3,700 students in five schools: Alice Harte Charter School, Edna Karr High School, Andrew Wilson Charter School, 42 Charter School and Eleanor McMain Secondary School. InspireNOLA is excited to see similar growth and achievement in its newest schools, McMain and 42, which it welcomed in the 2017-2018 school year. To enroll in any InspireNOLA school for the upcoming year, please visit enrollnola.org.