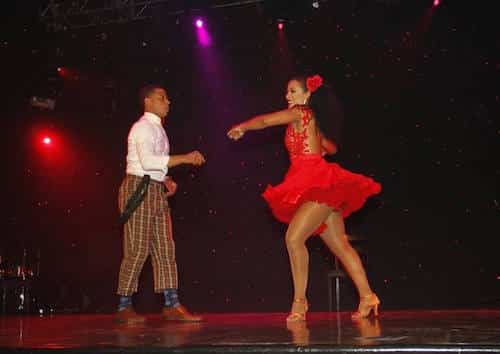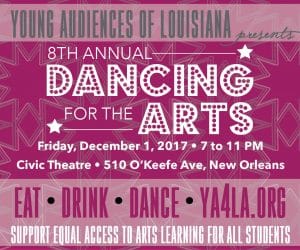 Inspired​ ​by​ ​ABC's​ ​​Dancing​ ​with​ ​the​ ​Stars​,​ ​the​ 8th​ ​Annual​ ​Young​ ​Audiences​ ​​Dancing​ ​for​ ​the​ ​Arts​ ​gala​ ​will​ ​feature​ ​local​ ​community​ ​leaders​ ​competing​ ​on the​ ​dance​ ​floor​ ​with​ ​professional​ ​dancers​ ​for​ ​the​ ​coveted​ ​People's​ ​Choice​ ​Award.​ ​The​ ​​​gala​ ​will​ ​be​ ​held​ ​at​ ​The​ ​Civic​ ​Theatre​ ​this Friday,​ ​December​ ​1​ ​from​ ​7​ ​to​ ​11 p.m.​, ​starting​ ​with​ ​a​ ​red​ ​carpet​ ​reception​ ​and​ ​cocktail​ ​hour. Festivities​ ​include​ ​a silent​ ​auction,​ ​an​ ​open​ ​bar,​ ​fine​ ​fare,​ ​and​ ​entertainment.
The best part? All​ ​proceeds​ ​from​ ​the​ ​gala​ ​will​ ​support​ the ​Young​ ​Audiences​ ​afterschool​ ​and​ ​summer​ ​arts​ ​education programs.​
Star​ ​Dancers​ ​include:​ Punkin​ ​Habet​,​ ​real​ ​estate​ ​agent;​ ​​Sandra​ ​Herman, philanthropist​ ​and​ ​community​ ​organizer​;​ ​Carl​ ​Mack,​ ​​owner​ ​of​ ​entertainment​ ​company​ ​Carl​ ​Mack Presents​;​ ​Dr.​ ​Jane​ ​Cagan​ ​Miller,​ ​​retired​ obstetrician/gynecologist​;​ ​Ben​ ​Sherman​,​ ​co-owner​ ​of Midway​ ​Pizza​ ​and​ ​Kingpin​ ​Bar;​ ​and​ ​dance​ ​instructor​​ ​Tai​ ​Teamer​ ​with​ ​brother​ ​Rodrick​ ​Teamer,​ ​Jr. This​​ year's​​ event​​ is ​​co-chaired​​ by​​community ​​activists​ S​tella​​ Del​​ Bianco​​​ and​​​ Florence ​​Smith​​​ with Anita​ ​Demps​​ ​and​ ​​Allison​ ​Kupperman​​ ​as​ ​Silent​ ​Auction​ ​Co-Chairs.​


TV​ ​personality​ ​​Camille​ ​Whitworth​ ​​returns​​ ​​as​ ​Mistress​ ​of​ ​Ceremony​ ​along​ ​with​ ​a​ ​panel​ ​of​ ​celebrity judges​ ​that​ ​includes:​ ​​Dennis​ ​Lomonaco,​ ​​CEO​ ​of​ ​Story​ ​Block​ ​Media,​ ​Executive​ ​Director​ ​of​ ​What​ ​You Give​ ​Will;​ ​​Kenny​ ​Lopez,​ ​​WGNO-TV​ ​Reporter;​ ​​Tamika​ ​Jett​,​ ​dancer,​ ​choreographer,​ ​and​ ​cast member​ ​of​ ​Big​ ​Freedia:​ ​Queen​ ​of​ ​Bounce; and​ ​​Beverly​ ​Matheney​,​ ​event​ ​founder.
Event​ ​sponsors​ ​include​ ​​Delta​ ​Airlines​,​ ​​Whitney​ ​Bank,​ ​Sizeler​ ​Thompson​ ​and​ ​Brown​ ​Architects, Louisiana​ ​Lottery​,​ ​​Capital​ ​One,​ ​Schiro-Del​ ​Bianco​ ​Enterprises,​ ​Kim​ ​Glazer​ ​Goldberg/Jerome​ ​S. Glazer​ ​Foundation,​ ​Kingpin​ ​Bar,​ ​and​ ​Entergy.
For​ ​more​ ​information​ ​or​ ​for​ ​corporate​ ​sponsorship​ ​opportunities​ ​please​ ​contact​ ​Special​ ​Events​ ​&​ ​Communications​ ​Coordinator Amanda​ ​Morlas​ ​at​ a​​manda@ya4la.org​​ ​or​ ​(504)​ ​304-5197.