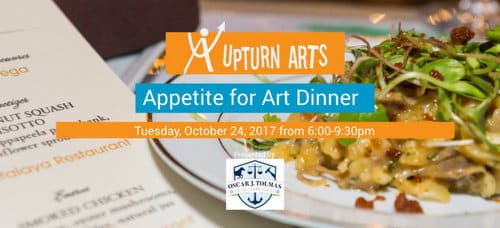 The Red Hot Brass Band, Toups South restaurant and Dryades Market are all partnering for a new "Appetite for Art" fundraiser Monday night to help create scholarships for low-income students to attend the Upturn Arts enrichment program.
Starting at 7 p.m. Tuesday, Oct. 24, the Upturn Arts percussion ensemble — including campers from October — will perform with local musician Boyanna Trayanova at Dryades Market at 1307 Oretha Castle Haley Boulevard, followed by a second line with the Red Hot Brass Band and Dancing Man 504 to Toups South restaurant two blocks away. There, attendees will enjoy a four-course meal that will also include items from Atchafalaya, Boucherie and Le Citron Bistro, as well as a live auction with artwork, vacations and other experiences.
"All proceeds of the dinner will go towards Upturn Arts' charitable purpose, including its goal of providing arts enrichment to the children in the New Orleans community regardless of family income level," according to the event announcement. "Since its founding in 2010, Upturn Arts has been committed to providing quality, multi-discipline, arts education to children in New Orleans in a sliding scale or scholarship basis, called cre-ART-ive grants. 59% of the 520 children who attended Upturn Arts' programming so far this year did so on a financial scholarship."
Tickets start at $150 per person or $275 per couple and can be purchased at the Upturn Arts website. The fundraiser is sponsored by the Oscar J. Tolmas Charitable Trust. A Patron Party starting at 6 p.m. at Dryades Market will precede the regular program.