It's been two months since its grand opening on Magazine Street, and the renown Gretna pop-up officially has a permanent home in New Orleans.
Saffron NOLA is finally Uptown; better yet, it's now open five nights a week and still offering craft cocktails, now with a Happy Hour and Sunday brunch.
Saffron NOLA started six years ago by husband and wife team, Chef Arvinder 'Dickey' Vilkhu and Pardeep 'Deepi' Vilkhu. It began as a once-weekly dining experience and catering company. The new location adds son Ashwin and daughter Pranita to the management team, further rounding out the family-run business.
Locals have long awaited the Vilkhu's move to the city with diners anticipating and commiserating over several false starts earlier this summer. Instantly forgiven, Saffron NOLA's tables are full, and fans are already clamoring for a luncheon menu in addition to the current dinner hours.
The menu is unique and best described as Indian reimagined. There is a European-NOLA bent, what the '80s touted as fusion. The restaurant's website reads, "Indian Evolution."
An example and mandatory first course should be the Crab, Shrimp, Okra, and Curry Gumbo served over Basmati Rice. Whether Creole has become Indian, or curry has become Creole, is moot, what matters is that it is delicious. Dipping truffled Naan into the same bowl creates a conversational silence instantly tabling that sort of debate.
The Oyster Bed of local oysters, roasted with caramelized onion, garlic, butter, and ginger, also served with Naan, is another perfect union of hand-ground Indian spices morphed with local tradition. In fact, many offerings also mix Southern Indian spices with Northern Indian, then further still with Creole. Enhanced flavor combinations are the goal at Saffron NOLA, not provenance.
The starter menu offers a variety of small plates featuring Shrimp, Crabmeat, Potato Cakes, and vegetarian choices, chilled raw oysters and a Charcuterie Board with a Pork Kabob Sausage and house-made Chicken Pâté.
There are also Roti Sathi plates (small plates that accompany roti bread) of Paneer (soft cheeses with spices), Masala (tomato and chiles), Raita (yogurt, cumin, tomatoes) and Daal (lentil vegetable stew). Entrees include Nariyal Gulf Fish, Goat Masala, Pork Vindaloo, Chicken Biriyani, Methi Chicken (chutney) and Kyber Lamb Chops (rum soaked).
Kiss From A Rose, a dessert worth the journey, is Saffron-Cardamom Ice Cream, Rose Syrup, Pistachios, and Vermicelli. Others might enjoy Lime In The Coconut, a concoction of Italian panna cotta, lime caviar, Japanese yuzu gel, and sorghum bark.
The interior design is an elegant, contemporary, and warm melding of copper, leather, and velvet—sophisticated, and reminiscent of an adult supper club in a '30s movie.
The bar injects traditional mainstays with Southern Asia whimsy resulting in craft cocktails named Manhattan-Esque, a blend of Rye, cardamom, port, and bitters or the Raj Roy of Amrut single malt, sweet vermouth, mole, and bitters. The Nah-Ma-Stay Swizzle is a tall iced rum with mango, lime, and mint.
Brunch selections include Curried Brisket & Grits, Shrimp, and Lentil Beignets in Remoulade, Caramelized Onion Pancakes, and a Bourbon laced Masala Chia.
Saffron NOLA
4128 Magazine St.
New Orleans, LA 70115
(504) 323-2626
saffronnola.com
Hours: Tuesday – Thursday 5 p.m. to 10 p.m.
Friday – Saturday 5 p.m. to 11 p.m.
Sunday Brunch 10 p.m. to 4 p.m.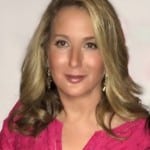 Kristine Froeba is a fourth generation Uptown girl whose varied background includes food and travel writing, celebrity ghost writing, public relations, social media management, fundraising, preservationist, reluctant tabloid hack, and litigation specialist. She describes herself as part foodie, part writer, part historian, historic renovation zealot, and full time dabbler.