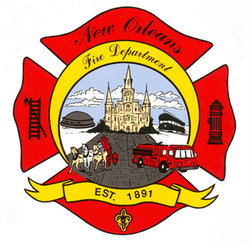 The 77-year-old woman burned in a fire Monday afternoon at a home on Soraparu Street has died from her injuries, New Orleans fire officials said.
Corren Lang suffered second-degree burns over more than half of her body in the fire that started in their bedroom shortly before 5 p.m. Monday, Sept. 18, at 720 Soraparu Street. Her 87-year-old husband was able to get her to the front porch within the three minutes it took firefighters to arrive after the 911 call, and they rushed her to the hospital, fire officials said.
"According to her son Nathaniel Lang, after being transported to the Burn Center at Baton Rouge General Hospital, on Tuesday, September 19, 2017, Mrs. Corren Lang succumbed to injuries sustained during the fire at her home," the release states.
Firefighters were able to bring the blaze under control in less than 20 minutes, the report states. The cause of the fire remains under investigation.