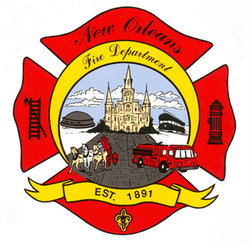 A 1-year-old child was killed in a house fire Monday morning on Birch Street in Carrollton, New Orleans fire officials said.
The fire was reported shortly before 6 a.m. Monday, Sept. 4, at a one-story wood-frame duplex at 8829-31 Birch Street, according to the report from the New Orleans Fire Department. Firefighters arrived within 4 minutes of the call, but found the "very intense fire" had already spread to neighboring houses on either side, the report states.
An adult woman and the child were inside the house where the fire started, and the woman was awakened by the sound of fire alarms, the report states.
"After awakening she found the home engulfed in flames and smoke," the report states. "The caregiver was forced to exit the rear of the home and was unable to reach the toddler. The one year old was trapped inside the house and perished."
Four firefighters were hurt while fighting the blaze, the report states. Their injuries were deemed minor, such as heat exhaustion or superficial burns, and all were released after receiving treatment at the scene.
The house where the fire started is deemed a complete loss, and both neighboring homes — one of which was occupied, and the other was under renovation — sustained "moderate" fire and water damage, the report states. It took nearly two hours for the 58 NOFD personnel to bring the fire under control, the report states.
The cause of the blaze remains under investigation, the report states.