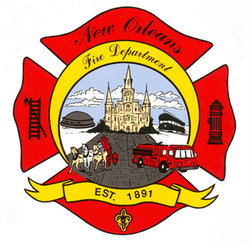 The majority of the diesel fuel that leaked from the Sewerage & Water Board plant in Carrollton has been cleaned up, and no more has appeared, but officials are still unsure how it escaped in the first place, authorities said Thursday afternoon.
The New Orleans Fire Department is "confident" that the diesel storage tank at the S&WB plant on South Claiborne was the source of the leak, but are still trying "to determine what caused the leak to occur, get an estimate of how much diesel may have escaped the tank and conclude how the diesel traveled from the containment area into the drainage and sewer systems," according to a Fire Department news release.
"The majority of the spilled diesel has been cleaned and no additional fuel has appeared, however; environmental teams from these agencies are continuing the mitigation and clean-up effort by laying soft boom to absorb the remaining diesel and cleaning diesel deposits from the sides of the canals," the release continues.