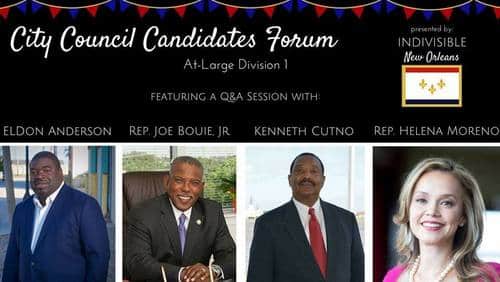 Indivisible NOLA, a progressive civic-engagement organization, will host a forum this afternoon featuring the candidates for one of the At-Large seats on the New Orleans City Council.
The forum will begin at 4:30 p.m. today (Saturday, Aug. 5) at Temple Sinai, 6227 St Charles Avenue. All four candidates who initially qualified pledged to attend, though one — Eldon Anderson — was since disqualified.
See the event announcement for more details:
Join us to ask questions of your At-Large (Division 1) City Council Candidates! #inolacitycouncilforum

Rep. Helena Moreno, Rep. Joseph Bouie, Eldon Anderson and Kenneth Cutno have all confirmed attendance.

We will be covering the following topics:

Affordable Housing
Infrastructure investment: (RTA accessibility,potholes, blight, breaking the cox monopoly)
Criminal Justice Issues:(DA Accountability, NOPD, Parish Jail issues)
Labor rights: (living wage, hospitality workers rights, workforce development, youth jobs)
Public health services: (Access to mental healthcare, addiction treatment, rehabilitation, response to homelessness)

No food or drinks allowed. Seating is first come, first served. Seating is limited. Names will be drawn for participants to ask questions. Street parking only.