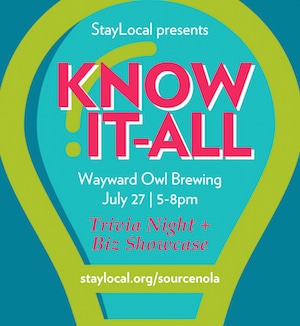 StayLocal will present "Know-It-All Trivia Night & Biz Showcase" at Wayward Owl Brewing Company (3940 Thalia St, New Orleans, LA 70125) on Thursday, July 27 from 5 to 8 p.m.
The trivia will test guests' knowledge of all things business, from historic New Orleans companies, to professional etiquette, to national economic trends. There will be prizes, music, food by La Monita food truck, networking and a business-to-business (B2B) showcase. Doors open at 5 p.m. for networking, and the trivia competition begins at 6 p.m. Admission is free.
"What better way for independent businesses to connect than teaming up to prove they know-it-all about New Orleans local economy." says event organizer and StayLocal program manager, Meredith Cherney. Know-It-All Night is for those who love all things local. "From banking, accounting, and web design to background checks and payroll providers, New Orleans has many local service providers. This event aims to raise the profile of these businesses and link other independent businesses with the local resources they need to grow."
RSVP for Know-It-All Night online here or call 504-252-1259.
For more information, visit www.staylocal.org/sourcenola.