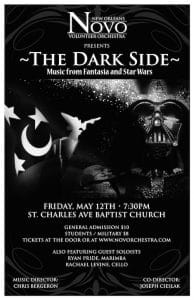 New Orleans Volunteer Orchestra will present their last concert of the season, "The Dark Side", featuring the 70-piece orchestra performing music from Star Wars and Fantasia, as well as two special guest soloists.
The concert takes place at 7:30 p.m. on Friday, May 12 at St. Charles Ave Baptist Church, located at 7100 St. Charles Ave. It will feature two soloists: Ryan Pride, Marimba, and Rachael Levine, Cello.
General admission is $10, and Student/Military tickets a $8. To buy tickets, visit NOVO's website here.  Join the event on Facebook here.