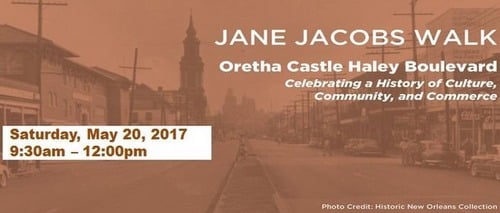 A group of citizen activists wijl lead a walking tour of Oretha Castle Haley Boulevard on Saturday morning, relating stories about the history and culture of the corridor in the spirit of urban activist Jane Jacobs, who is also the subject of a documentary with a free opening-night screening this week.
"In honor of Jane Jacobs, please join us for a FREE walking tour of Oretha Castle Haley Boulevard highlighting the revitalization efforts of this historic Central City corridor," the event website reads. "We will have a walking discussion about the evolution of the corridor from the influx of immigrants to the Civil Rights movement to Hurricane Katrina and beyond. The event will highlight recent revitalization successes and how they respect the rich history which has molded this cultural corridor."
The walk will span the corridor from Erato to Philip streets, and start at 9:30 a.m. Saturday, May 20 at the New Orleans Jazz Market, 1436 O.C. Haley Boulevard.
Fans of Jane Jacobs or those interested to learn more about her are also invited to a free opening-night screening of "Citizen Jane: Battle for the City," which relates Jacobs' successful battle against developer Robert Moses' plan to tear down lower Manhattan for a new highway. That event starts at 5:30 p.m. Thursday, May 18, and will include a panel discussion.