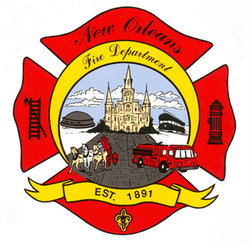 A fire that broke out Sunday night in a one-story house on Robert Street killed a dog, but the other residents were not at home and no one else was injured, New Orleans firefighters said.
The fire was reported shortly after 11 p.m. Sunday, May 28, in the 2600 block of Robert Street, according to a New Orleans Fire Department news release:
Dispatched at 11:10 p.m., the first NOFD Company arrived on the scene at 11:12 p.m. and found heavy smoke and fire coming from a one-story wood-framed dwelling at 2628 Robert Street. Due to the progression of the fire and close proximity of exposures on both sides of the home, a Second Alarm was immediately struck at 11:15 p.m. Firefighters performed a Primary and Secondary Search of the home.

Unfortunately, one deceased dog was found during the Secondary Search. The residents were not home at the time of the fire.

Fifteen NOFD units, carrying forty-six Fire Personnel, responded to this incident. The American Red Cross also assisted in the mitigation of this incident. This incident was placed under control at 11:30 p.m. There were no reported injuries and the cause of the fire is under investigation.