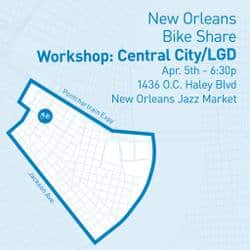 The city of New Orleans will host a workshop Wednesday evening to discuss where stations for the new bike-sharing program should be placed in the Lower Garden District and Central City.
This fall, the city is placing 700 custom-designed bicycles at an estimated 70 stations around the city, with a built-in lock keeping them secure until a rider with an account card "hires" the bike. Officials are seeking neighborhood input on specific locations for the stations, and will hold one such discussion session at 6:30 p.m. Wednesday, April 5, at the Peoples Health New Orleans Jazz Market at 1436 Oretha Castle Haley Boulevard.
For more information, see the announcement below:
The City of New Orleans and Social Bicycles are holding a series of six community meetings to gather input on the coming New Orleans bike share system.

Come out to give your input on where bike share stations should be located in Central City and the Lower Garden District!

Bike Easy has long been a proponent of bike share as a powerful addition to public transportation, and now it's time to get the details right. To make sure New Orleans bike share puts residents first and is accessible to all people for our city, we're encouraging everyone to come out and give your feedback on where bike share stations should be located in your neighborhood.

Bike share works best when stations are densely located within 3-4 blocks of one another. They should be located where they are easy to see, clearly link to buses and streetcars, take advantage of existing and planned bikeways, and fit on already existing sidewalk or street space.

Then, of course, there are only the things that you'd know about your neighborhood – the way water pools up on that one corner whenever it rains, the intersection that never seems to have car traffic, or the corner where people are often waiting for late buses and could use a bike to get to work.

There will be small group facilitated discussions to give specific feedback on proposed bike share station locations. Come share your unique and valuable knowledge to help create a reslient and equitable New Orleans bike share system.