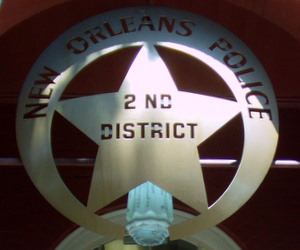 After two officers in an unmarked car were threatened at gunpoint on Fern Street in the Gert Town area last week, New Orleans police supervisors are warning them to respond to calls for service with backup, authorities said.
Two officers were in the area of Fern and Olive streets on Wednesday, April 19, when a man in another car threatened them with a gun, said Lt. Kendrick Allen of the NOPD Second District at the weekly meeting of ranking officers on Tuesday. The agents turned on the police lights in their vehicle, and the man escaped, but the ensuing search for them led to several automatic weapons in an abandoned home, Allen said.
While the investigation continues into that threat, Allen told platoon leaders, any calls for service in that area should be answered by at least two police units.
Anyone with information is urged to call the NOPD Second District station at 658-6020 to speak to a detective, or CrimeStoppers at 822-1111 to leave an anonymous tip that could be eligible for a cash reward.